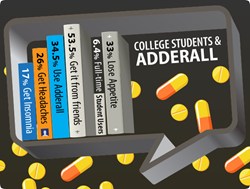 The effects of Adderall, especially when combined with another substance, can be dangerous or even deadly
Destin, FL (PRWEB) June 12, 2013
Gulf Coast Addiction Treatment has seen an increase of people seeking help for Adderall abuse and addiction, which is an issue that often crops up on college campuses in Florida and beyond. Used medically for its intended purpose, Adderall can be effective for treating ADHD and narcolepsy. When used non-medically, however, the prescription drug acts as powerful stimulant with a high risk of dependency and addiction, according to a Fox News report that refers to the drug as "college crack."
"The bad news is Adderall is becoming increasingly common for college students, who may use this amphetamine to stay awake, keep them alert or for recreational purposes," says Gulf Coast Addiction Treatment head of admissions Chris Ross. "The good news is that Gulf Coast Addiction Treatment recognizes the problem and has a recovery program that can be specifically geared toward treating Adderall abuse and addiction."
All of the recovery programs at Gulf Coast Addiction feature a personalized approach to overcoming addiction, and the methods used to treat Adderall abuse follow the same successful framework. People are not treated as "patients" or "victims" but are instead viewed as "students" who learn to recognize and take responsibility for their actions while they learn how to embrace a new life of recovery. The framework additionally holds firm if a person is indulging in the use of Adderall combined with alcohol or other drugs.
Adderall abuse by itself is dangerous, the Substance Abuse and Mental Health Services Administration warns, but the hazards can increase manifold when students engage in the use of Adderall with other substances.
A SAMHSA National Survey on Drug Use and Health found that full-time college students who engaged in Adderall abuse were three times more likely to use marijuana and eight times more likely to use cocaine. They were five times more likely to abuse prescription pain relievers and eight times more likely to abuse prescription tranquilizers. Nearly 90 percent of students who abused Adderall reported binge drinking within in the past month and more than 50 percent admitted to being heavy alcohol users.
"The effects of Adderall, especially when combined with another substance, can be dangerous or even deadly," Ross said. "Our Adderall addiction treatment can help stop the descent down the potentially fatal slope before it's too late."
Located on the Gulf of Mexico in Destin, Florida, Gulf Coast Addiction Treatment boasts a serene setting, luxurious surroundings and, most importantly, the research-based programs that can help people recovery from drug and alcohol abuse and addiction. The center offers a variety of non-12-step, holistic options for creating a personalized recovery program focused on lasting recovery.