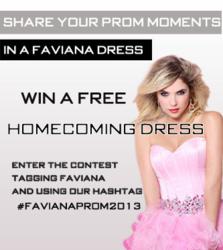 New York, NY (PRWEB) June 11, 2013
Faviana, celebrated special occasion and formal dress wear designer, today announced a contest on Instagram whereby Faviana consumers and fans of the brand will post a photo in their Faviana prom dress, and hashtag #FavianaProm2013 for a chance to win a free Faviana dress.
Faviana has been renowned for being able to predict the best fashion trends. Designed with the fashion forward girl in mind, Faviana speaks to a variety of consumers. Having established itself over the past few years as the 'go to' brand for the best designer-inspired looks, Faviana is distinguished for being able to create the perfect formal dress gown for any special occasion.
Actress and fashionista Ashley Benson is the face of Faviana. Benson is well-known for her recent role in the Harmony Korine film, Spring Breakers, and her role as Hanna Marin in ABC Family's hit series, Pretty Little Liars.
Faviana collections are available at specialty and department stores. For more information on Faviana, please visit http://www.faviana.com. Like Faviana on Facebook and follow Faviana on Twitter and Instagram at @Faviana_NY.