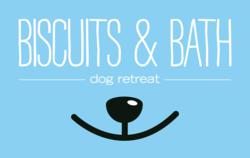 "Client happiness is our number one goal and the unwavering service provided by ITelagen has allowed us to build software that can successfully be supported in an IT environment we have 100% confidence in", says Scott Smith, CEO of B&B.
New York, NY (PRWEB) June 13, 2013
On Saturday, June 15th, Biscuits & Bath (B&B) will be launching a new version of their proprietary Point of Sale software, PetShop, which is responsible for managing its clients' account and the delivery of specialized care for their dog(s). B&B has been a client of ITelagen, Inc., a technology support service that monitors, manages, and hosts IT infrastructures for the healthcare, financial, and small business industries, since 2008. B&B provides multiple services to over 7,500 clients at eight locations spanning several NYC neighborhoods.
The cloud-based operating system offered by ITelagen, optimizes the performance of PetShop and therefore B&B. Waiting time is the single most important factor in client happiness. By launching the new version of PetShop in a cloud-based system, B&B looks to capture all of the software's new features in a faster and more stable environment. Some of these tangible benefits to B&B's clients will include:

Significantly faster booking and check-in wait time
A proprietary touch points system that better keeps track of all of B&B-Client communications
Easier to read account statements
A reservation wizard the makes creating reservations easier, cutting back on human error
An expanded amount of information located on the B&B website about the client's account
An extendable platform that will allow for on-line reservations in the future
"Client (and canine) happiness is our number one goal and the unwavering service provided by ITelagen has allowed us to build software that can successfully be supported in an IT environment we have 100% confidence in", says Scott Smith, CEO of Biscuits & Bath. B&B spent two and half years and significant sums of money in building this best-in-class software so they can do what they do best – deliver a personalized level of service to its parents and care to their dog(s).
"The philosophy behind our support and service model is to ensure that our clients can focus on what makes their business successful. B&B depends on us to keep their systems running at top performance and we are more than happy to play an integral part in their operation", said John O'Keefe, CEO of ITelagen.
ITelagen monitors, manages and advises clients' about their IT infrastructures in all fields. Additionally, ITelagen offers a state-of-the-art High Availability Hosting platform for clients who opt in for that service. ITelagen provides unlimited onsite and remote technical support for businesses, and the platform monitors the activity of servers 24/7 to ensure the secure functioning of client applications. ITelagen was founded in 2006, and staff includes a full-spectrum team of certified network administrators, computer technicians, security engineers, and more to meet clients' needs, no matter the scope.
About Biscuits & Bath:
Established in 1990, Biscuits & Bath was founded with the belief that dogs deserved the best care possible. The seeds were planted one fateful spring day when our company founder followed his dog walker to see whether his beloved yellow Labrador puppy, Merembe, was enjoying her romp in Central Park. Fortunately for the dogs of New York, John did follow his walker because rather than spending an hour frolicking in the grass of Central Park, Merembe was confined to a small Upper East Side apartment. The dogs of New York City are to this day thankful to that dog walker for it was at that moment that our founder became determined to provide a level of service that is unmatched and Biscuits & Bath was born.
Click here to view Biscuits & Bath's – Modern Company Profile.
For more information on Biscuits & Bath, visit their website.
About ITelagen:
ITelagen® redefines Healthcare IT for medical practices by providing EHR as part of an entire back-office solution that includes unlimited onsite & remote technical support for all of your staff and secure hosting of your patient data. We are more than just desktop technicians, but a complete technology team made up of CIO's, engineers, and healthcare EHR experts. With ITelagen, you can have all the benefits of your very own fully-staffed IT Department, without the expense of an in-house staff. By combining IT, hosting and certified EHR experts, ITelagen becomes the single point of contact and "One-Stop Shop for EHR" for IT and EHR infrastructure, all for a flat monthly subscription fee. For more information, visit ITelagen on the Web at http://www.itelagen.com. Follow ITelagen on Twitter at https://twitter.com/ITELAGEN, Facebook at http://www.facebook.com/itelagen, or LinkedIn at http://www.linkedin.com/company/itelagen.
Contact:
Emile Ondrus
ITelagen, Inc.
201-239-8405
press(at)itelagen(dot)com