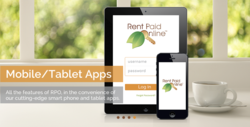 Our partnership and integration with RentReporters.com will provide our customers the added benefit of rental payment reporting and grant them the same opportunity as home ow
(PRWEB) June 18, 2013
RentPaidOnline™ a leading multi-family housing rent payment provider continues to enhance their suite of services by offering current and future customers the added benefit of RentReporters.Com (RR). RR provides a valuable service to renters and landlords by aggregating rental payments to the national credit bureaus. Unfortunately for most of today's renters, their property management companies and selected payment providers do not offer this type of advantageous service. Historically, home owners have had the ability to establish a more enhanced credit profile over renters because of lenders' long time ability to report mortgage payment activity to the credit bureaus.
"A good credit score has never been more valuable than in today's tighter markets. Our partnership and integration with RentReporters.com will provide our customers the added benefit of rental payment reporting and grant them the same opportunity as home owners who make timely payments," states Steven J. Foster, Chief Business Development Officer, EVP, RentPaidOnline™, a service of EFX Financial Services.
Crispin Luna IV, RentReporters.com President cites, "We are proud to be part of the RentPaidOnline mission of empowering landlords and property managers with the reporting of their tenants' payment data to the national credit bureaus. The RPO system provides today's manager and landlord a much needed blend of innovation and process evolution. The RentReporters.com system will provide RPO property managers, landlords and their residents a seamless credit reporting dashboard to view, manage and upload the payment data directly to the national credit bureaus."
About RentPaidOnline™
RentPaidOnline's technology includes a real time web-based and mobile platform for electronic checks, credit cards, and cash payments for the property management industry. EFX Financial Services Inc. was founded in 2006 and processes hundreds of millions of dollars in transaction volume annually throughout the United States and Canada. The key advantages of the RentPaidOnline™ services are our multiple, innovative, one of a kind payment channels and our "think outside the box" mentality to ensure our clients are always heard first and foremost.
EFX Financial Services corporate office is located in Clearwater, FL. EFX Financial Services also has additional offices in Jacksonville, FL., Atlanta, GA., Dallas, TX., and Philadelphia, PA.
For more information about RentPaidOnline or to schedule a personalized one on one with one of RentPaidOnline's executive team, contact us at 855.PMY.RENT(769-7368) or email us. Renters and Property managers are invited to catch up on all things RentPaidOnline via our Renters Room, Pros Corner, and social media outlets Twitter and Facebook.
About RentReporters™
RentReporters.com facilitates property manager and landlord reporting of rental payment activity directly to the national credit bureaus. Monthly rental data reporting is free to multifamily housing property managers, owners and landlords. Participating property managers and landlords increase tenant on-time rental payments by prioritizing these payments over other credit related payment obligations. Tenants benefit by building a more complete credit profile.