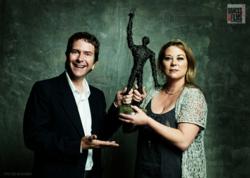 Peter's Konerko's imagery and The Dances With Films Festival epitomize the true spirit and integrity of American independent films.
Los Angeles, CA (PRWEB) June 11, 2013
Acclaimed photographer Peter Konerko brought his unique and timeless aesthetic to The Dances With Film Festival closing night award festivities Sunday June 9th in Hollywood. The event was held at Hollywood and Highland and gave the new crop of emerging talent a unique opportunity to connect with Konerko.
The Grand Jury Feature Award winner went to "COYOTE" written and directed by Joe Eddy and the Shorts Award to "VARMINT" directed by Joel Knoernschild.
J. Rick Castaneda picked up the Audience Award for his new film "CEMENT SUITCASE" and filmmaker Nick Corporon for his short film "BARBIE BOY."
ABOUT PETER KONERKO
American photographer Peter Konerko is based in Los Angeles and New York and specializes in portraiture and PR for established talent. His work has been featured in Variety, American Theatre Magazine, and The New York Times. Konerko's aesthetic masters an authentic and character-driven perspective, a unique and timeless style that has been developed over many years in collaboration with top industry professionals.