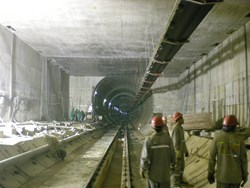 ...including PENETRON ADMIX in the readymix concrete gave the construction team a scheduling advantage.
E. Setauket, NY (PRWEB) June 11, 2013
The global sporting events include the Confederations Cup (a World Cup warm-up tournament) this summer, the FIFA World Cup in 2014 and the 2016 Summer Olympics. As Brazil's largest city, São Paulo has embarked on comprehensive upgrades to the public transportation system to manage the expected surge in tourism to the city.
Keeping Stations Dry for One Million Daily Travelers
The Metropolitano de São Paulo (commonly called Metrô) is the main rapid-transit system in São Paulo and the largest in Brazil. The recently added Line 4 is 12.8km long with 11 stations along the entire route. It is expected to serve close to one million users every day – even before the sporting events come to town.
Working with Odebrecht, Camargo Correa, Andrade Gutierrez, OAS and Queiróz Galvão, contractors and well-known civil works engineers, PENETRON ADMIX was approved after numerous compatibility, durability and performance tests. PENETRON ADMIX was used to increase resistance to water penetration and improve concrete durability of all 11 of the Line 4 underground stations.
Providing a Scheduling Advantage
"The performance of PENETRON ADMIX as a Permeability Reducing Admixture for Hydrostatic (PRAH) conditions (as defined by the ACI Report 212R) was a key factor in its specification," states Jozef van Beeck, Director International Sales & Marketing.
"We are proud to participate in a job that involved the biggest Brazilian contractors and the most recognized engineering firms in Brazil," adds Rob Revera, President and CEO of the PENETRON Group. "It was also important to be on time and on budget with the project deadlines; including PENETRON ADMIX in the ready-mix concrete gave the construction team a scheduling advantage."
The PENETRON Group is a leading manufacturer of specialty construction products for concrete waterproofing, concrete repairs and floor preparation systems. The Group operates through a global network, offering support to the design and construction community through its regional offices, representatives and distribution channels.
For more information on PENETRON waterproofing solutions, visit www(dot)penetron(dot)com, email crdept(at)penetron(dot)com or contact the Corporate Relations Department at 631-941-9700.