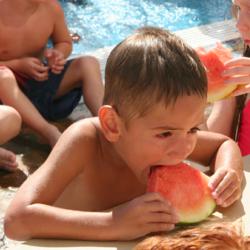 Panama City Beach, FL (PRWEB) June 13, 2013
The Holiday Inn Resort springs into the busy vacation season with great activities and entertainment the whole family will enjoy. The summer schedule is in full swing with a daily line-up of fun from Arts-N-Crafts, to exciting games, and more. On top of all the kids' activities, the resort's family friendly entertainment line-up will keep the whole family entertained.
"We had so much fun already this spring, and we're looking forward to an action packed summer season! We're extremely excited to meet all of the new families that will be traveling to our resort, and hopefully we will have some of our guests who have visited before come back and check out our new activities," says Heather Troncale, Guest Activities Manager at the Holiday Inn Resort.
This year, the Holiday Inn Resort has amped up their kids' activities program to offer an even larger variety of games, art projects, and themed activities. The resort has brought back the Gulf World Experience for the summer of 2013, where one of the team members from Gulf World Marine Park will visit the resort with one of the park animals, so that kids can see and touch an animal while they learn about it. Over the summer several animals will visit the resort including lizards, parrots, penguins, and lots of others.
Kids visiting this summer will also enjoy new Arts-N-Crafts that they'll be able to use while on their vacation and take home, so they'll always remember their visit to Florida. For those who have visited before and have a favorite activity, there's no need to worry, they'll still have all the favorites such as Splash Meet & Greets on the pool deck, Kid's Night Out, DJ Games, and more.
Not only does the resort provide fun activities for the kids each day, but they also have a variety of family friendly entertainment. The Polynesian Fire & Dance Show has become a staple of the Holiday Inn Resort's entertainment line-up. This takes place on the pool deck at least four nights each week all summer long. Also returning to the resort this year is the Vegas Style Variety Show with Todd Herrendeen, Magic with Noah Wells, Karaoke with Dave Johnson, poolside music with DJ Jim Lawson, JJ Brothers, Dr. Steelgood and lots of others.
"Our goal is to provide our guests with an amazing vacation, so this year - while we will continue to host our guests favorite shows - we added some new entertainment options as we're continuously looking to enhance the experience our guests have at our resort," says Philip Colvin, Director of Marketing at the Holiday Inn Resort.
Whether you're looking for excitement or looking to relax, the Holiday Inn Resort has something for everyone with fun shows, kids' activities, and poolside music, all right on the world's most beautiful beaches. Be sure to check out all the great value added packages offered this spring and call one of the resorts friendly reservations team members at 800.633.0266 to reserve your stay.