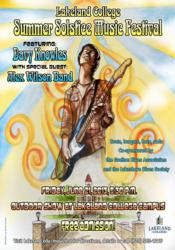 Sheboygan, WI (PRWEB) June 10, 2013
National headliner Davy Knowles will headline an evening of free guitar rock and blues on Friday, June 21, at the inaugural Lakeland College Summer Solstice Music Festival.
Wisconsin's own Alex Wilson Band will appear as special guest and get the music started at 5:30 p.m.
Admission is free and open to all. The show will be held under a tent outside Lakeland's Younger Family Campus Center. Brats, burgers, beer, soda and other food and drink will be available for purchase.
The show is co-sponsored by the Grafton Blues Association and the Lakeshore Blues Society.
Learn more at the festival website, http://lakeland.edu/musicfest.
Gibson ranked Knowles as one of the Top 10 Modern Blues Guitarists (in a field that included Joe Bonamassa, Kenny Wayne Shepherd, John Mayer and Ben Harper). He has released two highly regarded top three Billboard Blues Chart albums – "Roll Away" and "Coming Up for Air," the second produced by guitar legend Peter Frampton.
He will share the stage with Frampton, blues legend B.B. King and slide guitar wizard Sonny Landreth for a show in Kansas City in August.
Knowles has played more than 450 shows, both as a solo artist and as the frontman for the band Back Door Slam, and toured with the likes of Jeff Beck, Warren Haynes & Gov't Mule and members of the Grateful Dead. He's played some of the country's biggest music festivals including Bonnaroo, Lollapalooza and Austin City Limits.
He's been working on some new music and has a new album set for release this year. He said the Lakeland show will include some of his new work and a mix of fan favorites.
Knowles' career has been all about living out his dream of following in the footsteps of his musical heroes – Rory Gallagher, Mark Knopfler, Eric Clapton and John Mayall – and travelling the world, especially the U.S., as a full-time musician.
A "Live from Melbourne" CD and a DVD of his "homecoming" concert in his homeland of the Isle of Man were recently release. After four years of relentless touring, Knowles has been spending time writing.
"The first four years was a whirlwind, but I loved putting in so many hours on the road," he said. "It was such a great learning curve, and the road is still where I most want to be. But I began to realize that I'd been working so hard I had no real time to find myself, and perhaps I had become the sum of my early influences.
"I increasingly felt I needed to step off the roller coaster and explore and try finding a bit more of myself in my music. Hopefully that's what is happening now."
Learn more at http://www.facebook.com/DavyKnowles.
Wilson is a versatile musician who effortlessly switches between genres. He plays everything from sweet Beale Street blues to West coast swing. From hard Texas grinders to stone cold Chicago grooves with a feeling that's said to be timeless.
At age 17 he began to dig deep into the blues, learning the songs and styles of masters such as Muddy Waters, Howlin' Wolf, Little Walter, Buddy Guy, Jimi Hendrix and Magic Sam. By 21 he had joined Milwaukee's Blue Rubies and was performing regionally while still playing part-time with his own band.
In the mid-2000s, Wilson began to focus solely on his own project, and in 2007, his band won the WAMI (Wisconsin Area Music Industry) Award for blues group/artist of the year. After playing a series of shows in Beijing with Grammy nominated blues harmonica player Charlie Musselwhite, Wilson returned to the states to find himself a triple nominee for the WAMI Awards in 2008 and winner of the award for guitarist of the year. He won again in 2009 and 2011 for blues artist.
In 2011 and 2013, the band competed in the prestigious International Blues Challenge in Memphis, finishing in the top eight in the IBC finals at The Orpheum Theater both years.
His long-awaited and freshly nominated debut CD, "Tell Me Why," has been released on Rathskeller Records.
Learn more at http://alexwilsonband.com.