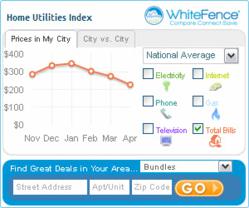 Houston, TX (PRWEB) June 11, 2013
ELECTRICITY
Extremes:
1. Highest bill: Houston, TX at $127.69
2. Lowest bill: Los Angeles, CA at $32.75
3. Largest Month over Month (MOM) increase: Phoenix, AZ from $70.61 to $108.65
4. Largest MOM decrease: Chicago, IL from $66.47 to $45.07
The city with the highest bill for May was Houston, TX at $127.69. The greatest increase in monthly bill was Phoenix, AZ, from $70.61 in April to $108.65 in May. This is typical for Phoenix since the start of the summer season is beginning and temperatures usually reach the high 90's in May. This trend will continue throughout the summer season as Phoenix will fluctuate between the high 90's and 100's.
As in April, Los Angeles, CA once again has the lowest bill at $32.75 in May. Chicago, IL saw the greatest decrease, which was a decrease of $21.40 compared to its April average bill. Chicago, IL saw a significant drop in May to $45.07. Chicago temperatures slowly began to rise into the 60's, however the majority of May stayed decently chilly, which helped keep high electricity bills grounded.
NATURAL GAS
Extremes:
1. Highest bill: New York, NY at $43.42
2. Lowest bill: Orlando, FL at $13.73
3. Largest MOM increase: Los Angeles, CA from $27.52 to $28.24
4. Largest MOM decrease: Atlanta, GA from $63.08 to $16.98
The highest overall bill for May was New York, NY at $43.42. Indianapolis was a close runner up at $38.26. This is due to the Midwest and Northeast enduring a longer winter season this year. Snowstorms eventually dissipated; however, cool air from the north occupied these areas well into the month of May. The cooler temperatures in these areas helped keep natural gas a high priority.
Orlando had the lowest bill in April at $13.73. This is primarily due to temperatures remaining in the high 80's for most of the month, reducing the need for natural gas. The southern states will continue to see a huge decline in their natural gas bill as temperatures rise dramatically in the summer and remain consistently hot for the majority of the year.
ABOUT WHITEFENCE
WhiteFence is a free service that helps homeowners and renters compare, connect and save money on phone, internet, television, electricity, natural gas, and other home services. By simply entering a street address onto the secure site, people looking to save money or start new service can find the most comprehensive list of plans available for their specific address from over 300 nationally recognized partners. As a trusted home service shopping source for 20 million people annually, WhiteFence makes it easy to establish service directly on the site in a few simple steps. WhiteFence is an Internet Capital Group partner company. WhiteFence is headquartered in Houston, Texas. For more information, please visit WhiteFence.com or view the index data at WhiteFenceIndex.com.