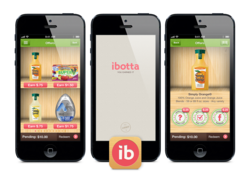 "Our shoppers asked us to enable Ibotta in our stores, and we listened," says Gary Suokko, COO of Piggy Wiggly Midwest.
Denver, CO (PRWEB) June 11, 2013
Ibotta, Inc., makers of one of the fastest growing mobile shopper technologies in the U.S., has partnered with Piggly Wiggly Midwest to allow its shoppers to earn cash rewards when using their Preferred Club Card to buy selected products.
Through its partnership with Ibotta, Piggly Wiggly Midwest continues its tradition of finding new ways to enhance and differentiate the in-store shopping experience. "Our shoppers asked us to enable Ibotta in our stores, and we listened," says Gary Suokko, COO of Piggy Wiggly Midwest. "Ibotta provides rewards in addition to the savings and discounts that are already available through the Piggly Wiggly Preferred Club Card." Once a shopper registers their Piggly Wiggly Preferred Club Card on the Ibotta app, earnings for Ibotta Offers are redeemed upon checkout, with the cash rewards being deposited directly to their Ibotta account. Shoppers can withdraw their money using PayPal or choose other rewards.
"Tying Ibotta directly to Piggly Wiggly's point of sale system makes it easier than ever to redeem Ibotta offers and earn cash," says Ibotta's CEO, Bryan Leach. "We're excited to be partnering with Piggly Wiggly on this initiative."
"A key for us in working with Ibotta was the ease in technical implementation and I was pleased that it was such a straightforward process," says Bill Bell, Director, Information Technology, Piggly Wiggly Midwest.
Ibotta can be downloaded for free on the Apple App Store and Google Play. Starting June 20, 2013, Ibotta can be used in store at Wisconsin and Illinois Piggly Wiggly locations by connecting a Piggly Wiggly Preferred Club card to the Ibotta App. For more information on this process, please visit shopthepig.com/ibotta starting June 20th.
Ibotta is a fun and exciting way to earn cash for buying everyday products in the grocery store. Ibotta users have rewarded Ibotta with over 10,000 top reviews on Google Play and the Apple App Store.
About Piggly Wiggly Midwest
Piggly Wiggly Midwest supplies 101 Piggly Wiggly supermarkets in the greater Wisconsin and northern Illinois areas. Sheboygan, Wisconsin, is home to Piggly Wiggly's headquarters (where it has been operating since 1911), its company's corporate offices and two of its distribution centers. A third distribution center is located in Milwaukee. Piggly Wiggly Midwest is the fastest growing grocery wholesaler in the State.
About Ibotta
Ibotta is a Silicon Valley-backed technology company that focuses on developing the world's first brand engagement mobile applications. Ibotta has been featured by Google and Apple, and covered by multiple news outlets, including Good Morning America, U.S News and World Report, Mashable, TechCrunch, CNET, Progressive Grocer, and Shopper Marketing. Ibotta features hundreds of offers on products by leading global consumer packaged goods companies.
Ibotta website: http://www.ibotta.com
About Ibotta: ibotta.com/about
Facebook: facebook.com/ibottaapp
Blog: blog.ibotta.com/