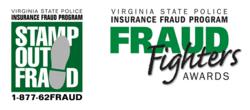 Nominees for the Fraud Fighters Awards came from the Virginia insurance industry, the law enforcement community and commonwealth's attorneys.
RICHMOND, Va. (PRWEB) June 11, 2013
Sixteen Virginia "Fraud Fighters" recently were recognized by the Virginia State Police (VSP) Insurance Fraud Program (IFP) during the Virginia Chapter of the International Association of Special Investigation Units (VAIASIU) Annual Fraud Seminar in Richmond. The Fraud Fighters Award was established in 2005 by the IFP to recognize those individuals who set the standard for fighting insurance fraud in Virginia.
Nominees for the Fraud Fighters Awards came from the Virginia insurance industry, the law enforcement community and commonwealth's attorneys. The awards were based on the nominees' contributions to the Virginia insurance industry anti-fraud efforts, which included their involvement and contribution to investigations; prevention and proactive activities; enforcement; interaction with the insurance community; and financial impact by recoveries and restitution resulting from their fraud-fighting efforts.
The recipients of the 2013 Fraud Fighters Award are:

SCC Bureau of Insurance (BOI) Supervisor Juan Rodriquez and senior investigators Larry Beadles and Michael Nacy, and Virginia State Police Special Agent Fred Solomon and Special Agent Accountant Chuck Myers began an investigation in 2008 when an allegation was made that insurance agent Mae Fattaleh had collected premiums from the owner of a logging business and failed to place any insurance coverage. The BOI investigators spent several hundred hours in the agency and surrounding counties over the next 12 months reviewing more than 10,000 pages of documents, issuing subpoenas and conducting numerous interviews. Fattaleh was less than cooperative with the investigators, and she also began misdirecting the investigators by claiming numerous thefts of premiums by agency employees. They not only had to prove their case against Fattaleh, but they had to disprove her allegations against her former employees. Initially she was fined $185,000 and her licenses were revoked. After the U.S. Attorney's office declined prosecution, the case was presented to Virginia State Police and assigned to Solomon and Myers. Working hand-in-hand, the BOI and VSP investigators continued to work closely to prepare the final case. In 2009, Fattaleh was arrested and charged with four counts of obtaining money by false pretense and two counts of attempting to obtain money by false pretense.
Claude V. Worrell II, deputy commonwealth's attorney for Charlottesville, agreed to take the Fattaleh case even though he knew very little about the insurance industry. Within a short amount of time, however, it was clear to all Worrell had become well informed regarding the terminology, laws and practices of the insurance industry. During the trial preparation Worrell spent hundreds of hours working on the prosecution of the case. After several setbacks, the case finally went to trial in April 2012. It was presided over by a substitute judge who admitted he was struggling with the vast complexity of the case. Worrell executed an intelligent, well planned prosecution that showed he clearly had a grasp of the subject matter. Ultimately, Fattaleh was sentenced to a total of 23 years in prison and suspended all but two years and one month. She was also ordered by the judge to pay restitution in the amount of $114,009.45 plus court costs of $2,108.
Derek Wagner, deputy commonwealth's attorney for the City of Chesapeake, prosecuted a fraudster who claimed lightning struck his home and caused $6,850.00 in damage to electric circuits and the air conditioning unit. It was discovered that Mr. Lowe had submitted forged repair bills to State Farm Insurance, who ultimately denied his claim after two key witnesses corroborated the forgeries. The fraudster was found guilty of five felonies, and the two key witnesses for this case were also rewarded for their continued efforts to see this case to a successful prosecution. Wagner has been involved with the Insurance Fraud Program since its inception, prosecuting numerous cases over the years. Wagner has been the "go-to guy" at the Chesapeake Commonwealth's Attorney's office for many years. Wagner stands out by never settling and by his commitment to excellence.
As a special agent, Phillip Edmonds actively fought insurance fraud in the Hampton Roads area for six years. His work ethic and determination have made him an exceptional investigator and fraud fighter. Edmonds received a notification from State Farm that a mother and daughter were making duplicate insurance claims with State Farm and Elephant Insurance for medical bills, rental car expense and damage to a 2000 Buick Regal. Edmonds coordinated with all the insurance adjusters who had performed estimates on the vehicle. After reviewing the estimates and photographs, he was able to determine the damage was the same on all the vehicles. After several hours of interviewing, Edmonds was able to gain a confession from both the mother and daughter. He was given full details on how and why they made the false insurance claims, helping him secure multiple charges for insurance fraud. During the interview, Edmonds was able to get an additional confession from Mom regarding an insurance claim she filed alleging damage to a 2002 Dodge Caravan. This investigation resulted in seven felony arrests.
John Ghetti investigated an insurance claim where the claimant stated their 2006 Dodge Stratus was involved in a hit and run accident when the car was parked unattended. While the claim was in progress, Ghetti discovered that over time the couple made multiple, similar insurance claims with at least three different insurance companies. The claimant also said his 1993 car was stolen, but he abandoned that claim when he was unable to provide the requested documentation. The car he said was stolen had actually been sold four years earlier. He was arrested on four felonies for Obtaining Money by False Pretense and one felony for Attempting to Obtain Money by False Pretense. His wife was arrested the next day on four felony counts of obtaining Money by False pretense. If Ghetti had not done a thorough investigation, this couple would have gotten away with their fraudulent schemes and more than likely tried to commit more fraud.
VSP Senior Special Agent Melanie Franklin completed a two-year fraud investigation where the victim was the Virginia Workers Compensation Board. The sum of $47,456.64 was paid out over a period of approximately two years in the name of a deceased individual. The checks were cashed by three suspects in multiple jurisdictions. Coleman Adams, assistant commonwealth's attorney for Danville, working closely with SA Franklin in this case, was a major part of the success of this investigation. Two of the suspects were indicted in the City of Danville. The Danville venue resulted in 64 fraud-related indictments, which resulted in 57 felony convictions and restitution totaling $15,099.84. Robert L. Bushnell, the commonwealth's attorney for Henry County, played a major role in the prosecution of the third fraudster who was in jail on other felonies. The Henry County venue resulted in 92 fraud-related indictments and guilty pleas to 23 felonies. Restitution exceeded $37,000. As a result of Franklin's investigation and the efforts of the prosecutors, a total of 155 felony indictments against three individual were made. Each of the accused received sentences ranging from one to four years.
Special Agent Scott Mitchell investigated a Nationwide Insurance claim involving collision damage and multiple injuries. The policyholder claimed while she was a passenger in her own car, the driver of her car lost control and struck two vehicles that were already stopped at a red light. The policyholder and the three other occupants of the insured cars were all claiming injuries as well as damage to her car and to the two other vehicles. Because of the claims history and concerns that the crash may have been intentionally staged, Nationwide reported the claim to State Police, and the investigation was assigned to Mitchell. Mitchell interviewed the driver who admitted planning the accident with the policyholder and the two passengers to collect insurance money for injury claims and for the totaled car because the policyholder no longer wanted it. The driver admitted deliberately driving the car into the two stopped vehicles at the direction of the policyholder's father and then driving it in to a snow bank to cause more damage. The driver and one of the passengers in the car pleaded guilty to Misdemeanor Obtaining Money by False Pretense. The policyholder's father pleaded guilty to Felony Obtaining Money by False Pretense and was sentenced to a five-year prison sentence and five year probation. He also had to make restitution to Nationwide for more than $4,000. The policyholder was found guilty of Felony Obtaining Money by False pretense after a bench trial in Roanoke County – her sentence is pending.
Patrick Nix, assistant commonwealth's attorney in Franklin County, was instrumental in the prosecution of a two-year-long investigation involving one primary suspect who ran a fraudulent scheme involving used vehicles and vehicle parts. The service was operated using the Internet as the method of obtaining payment for the vehicles and vehicle parts. The investigation yielded 25 fraud-related felony indictments and eight misdemeanor charges. Nix became involved in the beginning stages of this complicated, time-consuming investigation, involving an extreme amount of money. Cindy Waters, an analyst for the Department for ten years, also played a major role in this investigation. Using her research skills, she located approximately 10 additional victims who had been defrauded of several thousand dollars by the suspect, and compiled valuable information for use in court. The Circuit Court returned 25 guilty verdicts, which included 18 felonies on charges relating to Obtaining Money by False Pretense and Money Laundering and seven tax fraud-related misdemeanor convictions. The jury recommended a total of 18 years, three months, and fines totaling $132,000.
Senior Special Agent Rick Elgin has been a member of the Department of State Police for 28 years and assigned to the insurance fraud unit since 2010. In 2012 alone, Elgin opened 34 fraud-related investigations, closing 30 of them. He made five felony arrests and one misdemeanor arrest, which included an arrest on a 2008 notification from State Farm Insurance. This case involved a staged accident that actually occurred in North Carolina, but was reported occurring in Danville. The report included three suspects, the wrong driver and several of the occupants reporting injuries. Elgin brought this case up to date, which lead to a felony indictment, charging one of the occupants with Obtaining Money by False Pretense. In another case, GEICO reported a claim for damages filed by a policy holder who claimed $1,920.53 in damages to a motorcycle just days after he lowered his deductible. Elgin discovered the suspect had obtained insurance using his father's identity. A Franklin County grand jury indicted the suspect on one count of Attempting to Obtain Money by False Pretense and the suspect pleaded guilty. No monies were paid out, and GEICO cancelled the policy.
About the Insurance Fraud Program
The Insurance Fraud Program of the Virginia State Police was established January 1, 1999, through legislation approved by the General Assembly. The program's mission is to address the growing crime of insurance fraud in Virginia by conducting thorough professional insurance fraud investigations; by providing insurance fraud training for law enforcement personnel; and by increasing citizen awareness and cooperation through educational and rewards programs.
# # #