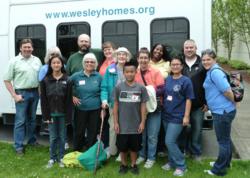 Des Moines, WA (PRWEB) June 13, 2013
The Wesley Homes Living the Mission Team helped pack approximately 12,000 pounds of frozen peas and 16,000 pounds of plums for food banks on Saturday, June 8th at the Northwest Harvest warehouse in Kent, WA.
"Northwest Harvest's statewide mission is to provide nutritious food to families who need basic sustenance in a manner that respects their dignity, while fighting to eliminate hunger," said Bernie Dorsey, Wesley Homes Director of Outreach and organizer of the Living the Mission Team. "Part of the Wesley Homes mission is to 'meet the physical, social and spiritual needs of those we serve.' Knowing that too many of our local community members lack even the most basic of needs, our Living the Mission Team is stepping up to offer a helping hand. We know that a few hours on a Saturday morning can mean so much to so many."
Northwest Harvest has been around since 1967, when a group of Seattle community leaders realized that hunger was a big problem. Today, Northwest Harvest partners with Rotary First Harvest, which secures millions of pounds of food donations every year from Washington State food producers.
"Working at the Northwest Harvest plant for three hours on a Saturday morning is a rewarding enterprise for all who volunteer," said Sten Crissey, Wesley Homes Foundation Director of Fund Development and frequent volunteer through Rotary First Harvest. "We leave Northwest Harvest feeling fulfilled, knowing we have helped an unknown family truly in need of the assistance we were able to provide, and I'm excited that Wesley Homes has become part of this worthy cause."
The Wesley Homes Living the Mission Team is always on the lookout for ways to be of service. There are a variety of tasks that need to be done at Northwest Harvest, and volunteers with physical limitations can be easily accommodated.
"Seeing the volume of food that passes through this facility and realizing how many families are being fed because of Northwest Harvest – it just warms a volunteer's heart," said Crissey.
Northwest Harvest and its partners and volunteers distribute tons of food each year through a network of more than 350 food banks, meal programs and high-need schools.
Founded in 1944, Wesley Homes is a not-for-profit organization that provides a network of services offering a continuum of care for over 1800 older adults with two retirement communities in south King County, a private pay home care agency and a Medicare-certified home health agency. It is affiliated with the Pacific Northwest Conference of the United Methodist Church.
# # #
WESLEY HOMES
Retirement Communities, Home Health Services & Foundation
815 S. 216th Street
Des Moines, WA 98198
(206) 824-5000