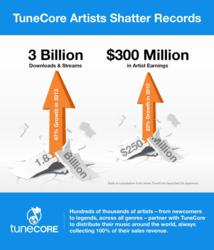 New York, New York (PRWEB) June 12, 2013
Today TuneCore, the premiere digital music distributor with one of the largest music catalogs in the world, announced a 20% growth in artist earnings for the first five months of 2013, exceeding $300 million dollars in artist earnings since its launch in 2006. TuneCore also experienced a 67% increase in downloads and streams reaching over 3 billion units during the same time period.
"TuneCore's mission has always been about giving all artists the opportunity to easily and affordably get their music heard anywhere in the world and receive 100% of the revenue from the downloads and streams of that music. Hitting this $300 million earnings milestone is something to be celebrated and we congratulate all our TuneCore Artists," says Scott Ackerman, TuneCore COO.
Complementing the phenomenal earnings number is the 3 billion downloads and streams generated by TuneCore Artists, another major milestone. These numbers reflect a tremendous growth in streaming, fueled by changing consumer behavior and the desire to discover and listen to music anywhere, any time and on any device. Streaming services provide artists additional opportunities to find more worldwide listeners and monetize their music. TuneCore is partnered with several top global streaming providers including Sony Music Unlimited, Spotify, Rhapsody, Deezer and Simfy, and will continue to add additional streaming services to provide even more reach for their artists.
For more information about TuneCore Distribution and Publishing Administration services and how they maximize artists' music sales and royalty collection revenue potential, visit their site at http://www.TuneCore.com
About TuneCore
TuneCore is the premiere digital music distributor with one of the largest music catalogs in the world. Since its launch in 2006, over 3 billion TuneCore Artists' music units have been downloaded or streamed, generating over $300 million in revenue earned by TuneCore Artists, ranging from indie artists to high-profile performers.
For an annual flat fee, TuneCore Distribution provides an easy-to-use, affordable digital solution for artists to get their music distributed worldwide to iTunes, Amazon MP3, Spotify, Rdio, Google Play, and other major download and streaming sites. Artists keep 100% of their sales revenue and all their rights.
TuneCore Publishing Administration, using a web-based interface, gives songwriters worldwide the ability for TuneCore to license and register their compositions globally for a one-time flat fee, collect royalties from over 60 countries and deposit the royalty revenue directly into their TuneCore accounts. Driven by in-house Creative, TuneCore actively markets compositions for synch licensing agreements for music placements in TV, film, video games, mobile applications, and other medias.
TuneCore continues to support the international artist community with the launch of TuneCore Canada in 2011 and TuneCore Japan in 2012.