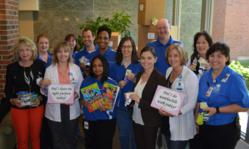 Vernon Hills, IL (PRWEB) June 12, 2013
Cole-Parmer delivered more than 900 packages of toy cars, more than 1,900 boxes of crayons, nearly 1,400 coloring books, and 800 packages of nonskid socks to the Vista Medical Center East in Waukegan, IL. The donation of the 5,000 items was the result of an employee toy drive, which exceeded expectations set by the company's Community Action Council (CAC).
"Our goal is to make an impact in the local community and we look for opportunities to rally our employees around these charitable events," said Monica Manotas, VP/General Manager, Cole-Parmer.
On hand for the delivery was Barbara Martin, President and CEO, Vista Health System, Lisa Lees, Director of Patient Relations and Community Cares Champion, as well as other hospital representatives. "We're extremely appreciative of Cole-Parmer and the efforts of employees for donating toys to our pediatric patients," said Martin. "We will be able to use these gifts in our emergency rooms and pediatric unit for many months to come."
Cole-Parmer has been a leading global source of laboratory and industrial fluid handling products, instrumentation, equipment, and supplies since 1955. Our product lines, including popular brand names such as Masterflex®, Oakton®, and more, are sold through company-owned customer channel outlets and a strong network of international dealers. We also feature an ISO-17025-accredited metrology lab for instrument calibration and repair. Cole-Parmer responds with excellence to customer needs, and offers application expertise and technical support. For more information, contact Cole-Parmer, 625 East Bunker Court, Vernon Hills, IL 60061. In the US, call 800-323-4340. International customers, call 847-549-7600. Visit us at http://www.coleparmer.com