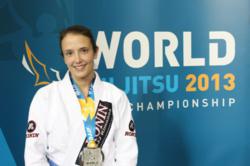 "In fact, she always thought she was not athletic. Training jiu jitsu has helped her transform into an athlete and a coach." - Head Coach Roberto Torralbas
Naples, FL (PRWEB) June 10, 2013
Team Third Law blue belt Katy Torralbas won silver at the World Championships in Long Beach, California, the biggest jiu jitsu tournament of the year.
Torralbas, who trains and teaches at Team Third Law Brazilian Jiu Jitsu in Naples, Florida, won four matches in her blue belt lightweight division.
The World Championships is the fourth and final in the series of four respected jiu jitsu tournaments known as the Grand Slam. Put on by the International Brazilian Jiu Jitsu Federation, the Grand Slam tournaments attract the toughest jiu jitsu competitors from around the world.
At the first major tournament of the year, the European Open in Lisbon, Portugal, Torralbas won silver in her division and bronze in the open weight class. Then, in March, she won her first Grand Slam -- becoming Pan American Champion by winning gold her blue lightweight division. She also got bronze in the blue belt open weight class.
"Katy had a great year this year, winning Pan Ams and US Nationals and getting silver at the European Open, No Gi Pan Ams and Worlds," said Roberto Torralbas, her coach and also her husband, owner of Team Third Law Brazilian Jiu Jitsu in Naples, Florida.
"What makes her results really amazing is that she had never participated in any organized or competitive sport before starting to train jiu jitsu a few years ago," he adds. "In fact, she always thought she was not athletic. Training jiu jitsu has helped her transform into an athlete and a coach."
When Torralbas originally started training, her goals were to lose weight and get in shape. Like many others, she fell in love with the sport -- both for its health benefits of fitness and weight loss, and the incredible challenge of learning, mastering and perfecting techniques.
If you're interested in Brazilian Jiu Jitsu or Muay Thai Kickboxing classes for kids or adults, Team Third Law offers a 30 day free trial. Call today to get started, 239-628-3LAW (3529), visit us at 5707 Shirley Street in Naples or online at http://www.teamthirdlaw.com