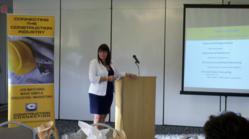 This year, we're more focused on specifics, and our speakers are offering more definitive education. We want the speakers… to contribute to our local business community and offer real, helpful business solutions and advice. We're very excited.
Miami, FL (PRWEB) June 11, 2013
Next week marks the beginning of National Small Business Week, and to celebrate SCORE Miami Dade is hosting their third annual Get Down to Business conference complete with networking events and lecture series by successful business owners and experts. Success in the age of the Internet is the overarching theme; speakers will address everything from Social Media to Cloud computing. Suzanne Breistol, Co-Founder of ConstructionConnection.com and EACJobs.com, will be speaking at the event on the topic of using online tools and resources for hiring and streamlining business practices.
The Miami Dade chapter of SCORE has been helping small businesses in the Miami area for over 50 years. As business owners' needs have changed, SCORE has evolved to meet new business challenges. Today, as more and more customers turn to the Internet for their product and service needs, having an online presence is vital for any small business. Online marketing, tools and resources can be incredibly helpful and effective, but many small business owners have yet to master them. SCORE has invited a panel of speakers to teach other professionals how they can use them to help their own companies as well.
"We're finding that the skills needed to use the Internet for small business solutions are in higher and higher demand," says Marjorie Weber, Chair of the SCORE Miami Dade chapter. "Last year we had speakers discuss the topic more generally, and people were very interested in what they had to say. This year, we're more focused on specifics, and our speakers are offering more definitive education. We want the speakers to come and promote their businesses, but we also want them to contribute to our local business community and offer real, helpful business solutions and advice. We're very excited for the event."
When asked to speak at the event, Breistol knew her deep knowledge of online hiring could be very beneficial to business owners and aspiring entrepreneurs. While her background is in the construction industry, Breistol is an advocate and consultant for small businesses in any field.
"Construction Connection is all about helping contractors, project managers and construction company owners find the qualified employees they need and educating them on the best business practices," explains Breistol. She goes on to say, "So many of those best practices apply to businesses in any industry, though, especially when it comes to hiring. We started Construction Connection to give people in our industry their own platform for hiring and looking for construction jobs at all levels. But there are tools like ours for other professional fields, too. Using an online hiring tool saves you time, money, and effort that could all be better spent running your business. That's what I hope people will take away from my lecture."
Construction Connection was born out of this idea and passion for helping other small and mid-sized business owners find success. The construction industry has a reputation for preferring to do business the old fashioned way, but Breistol and her partner Kent Leighton know how important it is to adapt and evolve as the market evolves. Both now work to help construction companies take advantage of free online resources, such as their website, and to increase their presence online. Breistol hopes her expertise in the area will inspire other professionals to get online and grow their businesses.
The SCORE Miami Dade Small Business Week Expo will be held on Thursday, June 13, 2013 at 8:30 am at the University of Miami Life Science Technology Park, 1951 NW 7th Avenue. Fore more information and to register for the event, visit the SCORE Miami Dade website.
About Construction Connection
ConstructionConnection.com was created out of a need for a more effective and streamlined way for construction industry professionals to get matched with the right industry jobs and with the right industry opportunities. The founders of Construction Connection, both industry professionals themselves, listened to both company and individuals' dissatisfaction with the traditional job boards, the paid resume blasts, the overpriced resume services and overall lack of sympathy toward the individual candidate. They also listened to the dissatisfaction from companies who post jobs only to get many irrelevant results or have to purchase high priced ads to showcase their company. Construction Connection is a patent-pending, one-of-a- kind profile creating / match-making system. The system delivers effective results. Construction Connection saves time, money and aggravation by matching people to people, people to companies, companies to people, and company to company.
About SCORE Miami Dade
SCORE is a nonprofit association dedicated to educating entrepreneurs and helping small businesses start, grow, and succeed nationwide. SCORE is a resource partner with the U.S. Small Business Administration (SBA), and has been mentoring small business owners for more than fifty years. SCORE is a valuable network of 13,000+ volunteers who offer small business entrepreneurs confidential business counseling services at no charge. SCORE also provides local workshops and events throughout the country to connect small business owners with the people and information they need to start, grow, and maintain their businesses, as well as online workshops available 24/7. SCORE provides resources, templates and tools to assist entrepreneurs in developing tools and plans they need to navigate their way to small business success.