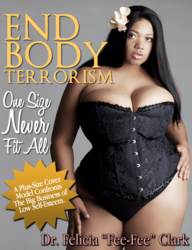 . . . the compelling tale about the big business of low self-esteem.
Los Angeles, California (PRWEB) June 11, 2013
Hopeafterdivorce.org columnist Dr. Felicia Clark is proud to offer the much anticipated "Love Your Body" workshop series to reach the more than 80% of women who struggle to like their bodies.
The nation's leading scholar on body terrorism, Dr. Clark developed the "Love Your Body" teleseminars to coincide with her groundbreaking book entitled, "End Body Terrorism: One Size Never Fit All," hitting bookstores everywhere late fall.
"End Body Terrorism: One Size Never Fit All" is a compelling tale about the big business of low self-esteem and the incredible social price society is paying for it. The book exposes the harm done by the vanity health industry whereby healthy women destroy their health to fit the beauty standard falsely portrayed as health. "End Body Terrorism" exposes how many thin models have died from anorexia and suicide, prompting many countries to place minimum weight standards for models-–something the US resists despite being responsible for most of the worldwide anorexia deaths (33%). The book's goal is to help women have a good relationship with their bodies.
"It is time for all women to get beyond body shame," Clark says. She uses her skills as a leader and professional curriculum designer to teach women how to do just that. Clark graduated from the nation's premier college leadership training program, the President's Leadership Class at CU - Boulder. Her talents were further developed in her doctoral program at Pepperdine University, where she specialized in leading large organizations. She has 13 years experience coaching people for success.
A frequent guest on talk radio, Dr. Clark makes shocking claims like "plus-size models are healthier than rail-thin models." However, Clark cautions that all women, regardless of size, experience body terrorism in some way. "Women are natural healers. The love and healing our society needs is trapped inside of the bodies of women who spend a lifetime feeling inadequate instead of using their power to nurture a better world."
Dr. Clark, once signed by the top modeling agency in the country, claims that even some models are part of the 80% of women who dislike their bodies. "It is time to turn the tide," says Clark.
Fortunately, women don't have to wait for the release of the book to begin body acceptance coaching with Dr. Clark. "Love Your Body" teleseminars are currently underway and announced at http:http://www.ebooklifecoach.com, along with face-to-face courses and retreats.
HopeAfterDivorce.org is a digital magazine and resource site designed to help people cope and thrive during and following divorce.