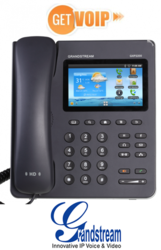 New York, NY (PRWEB) June 11, 2013
GetVoIP - http://getvoip.com/ - a leading VoIP Provider directory and service comparison guide, has announced their Summer Contest Giveaway, which offers users the chance to win a pair of IP Phones, the Grandstream GXP2200 Enterprise Multimedia Desktop Phone running on Android OS.
GetVoIP.com's Summer Contest Giveaway kicks off June 11th and runs through June 21st and offers all VoIP users in the United States the chance to win a pair of Grandstream's new and innovative Android-based IP phone, the GXP2200. There are no entry forms or fees. Instead, all users need to do to enter is the following:
1) Follow GetVoIP.com on its social media outlets (i.e. Facebook, Twitter, and/or Google+)
2) Submit a VoIP user review to GetVoIP.com
For more information on the phone's functions, and complete giveaway rules, visit GetVoIP's Contest page here.
The winner will be selected at random and announced via GetVoIP's & Grandstream's social channels. Again, the prize is one pair of GXP2200 Multimedia desktop phones; therefore, there will be only one winner, who will take both phones. Also, while the contest is available to all VoIP users, the prize is a pair of business VoIP phones; therefore, Business VoIP users are strongly encouraged to take advantage of this opportunity.
As a leading manufacturer of IP voice/video telephony and video surveillance solutions, Grandstream will directly sponsor this latest contest from GetVoIP.com, supplying the prize devices as well as shipping directly to the winner. "The GXP2200 is an Android-based business phone that brings user familiarity and the power of mobile technology to the desktop," said Phil Bowers of Grandstream Networks. "We're happy to partner with GetVoIP.com on this promotion and look forward to giving readers an opportunity to experience the feature and application-rich GXP2200 hands-on."
The GXP2200 is an impressive business VoIP desktop phone that uniquely features Android operating system 2.3, an impressive LCD touch screen, dual Gigabit network ports, integrated PoE and Bluetooth, and a slew of third party applications. While this is impressive enough, the device also optimizes user-friendly navigation through numerous flexibility and customization options. Furthermore, the device even boasts greater interoperability (with most 3rd party SIP based devices, IP PBX, and major IMS platforms.)
About GetVoIP.com:
GetVoIP, owned and operated by BizMedia Central LLC, serves as a comprehensive VoIP provider comparison guide, featuring consumer VoIP Reviews and a lively blog, based in Great Neck, New York. The site addresses all facets of the VoIP industry, while providing guidance and assistance to VoIP shoppers seeking the perfect VoIP provider tailored to one's specific telephone needs. GetVoIP offers 100% unbiased service provider reviews, insightful provider analysis, and stimulating content to a global audience.
About Grandstream Networks
Grandstream is an award winning designer and manufacturer of next generation IP voice/video telephony and video surveillance solutions for broadband networks. Grandstream's products deliver superb sound and picture quality, rich telephony features, price-performance competiveness, full compliance with industry standards, and broad interoperability with most services and 3rd party SIP based VoIP products.