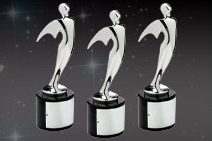 Cancer and Women's Health Services are key drivers of both volume and reputation. The organization delivers a truly outstanding, progressive and differentiated level of care
Morristown, NJ (PRWEB) June 12, 2013
Branding and marketing agency Trajectory was recently honored with three Telly Awards for its healthcare marketing work – for Reading Health System's Cancer and Women's Health Services service line TV commercials. These awards follow on the heels of a Gold Aster Award for Reading Health System integrated Brand Launch campaign.
The Telly Awards is the premier award honoring the finest in film & video productions, groundbreaking online video content, and outstanding local, regional, & cable TV commercials and programs. In 2013, Telly Awards received over 13,000 entries from all 50 states and 5 continents.
"It's always gratifying to be recognized for our collective agency and client efforts", states Randi Brody, Trajectory Partner. "But beyond the awards, both Cancer and Women's Health Services service lines are key drivers of both volume and reputation for Reading Health System. The organization delivers a truly outstanding, progressive and differentiated level of care to its Berks county and surrounding PA communities – so we're honored to be able to help raise awareness and perception and drive patients to an organization committed to providing an unparalleled level of care."
Ann Valuch, Director of Marketing at Reading Health System, states, "We are so excited to receive these top awards. Cancer (through our McGlinn Family Regional Cancer Center) and Women's Health Services are two of our defining service lines within our comprehensive continuum of care – and truly help us deliver on our promise of advancing the health and transforming the lives of our communities. This is also energizing for everyone internally, as this recognition quickly follows our nationally recognized rebranding and marketing efforts.
About Reading Health System
Reading Health System is a not-for-profit regional health system serving Berks County, PA and the surrounding communities. It consists of Reading Hospital, Reading Health Rehabilitation Hospital, Reading Health Physician Network, Reading Health QuickCare, and The Reading Hospital SurgiCenter at Spring Ridge. Reading Health System is Berks County's largest employer with over 7,300 team members and 1,000 physicians and providers across 63 locations – committed to advancing the health and wellness of the communities it serves. Reading Health System works to maintain clinical excellence through 32,000 yearly admissions, over 3.7 million outpatient services, and nearly 34,000 surgical procedures. For more information, visit http://www.readinghealth.org/. The Telly Awards receives over 13,000 entires annually from ad agencies, production companies, TV/Cable stations and corporations around the world. It is an honor to be selected for this distinction.
ABOUT TRAJECTORY
Trajectory is a national branding + marketing agency that specializes in working with healthcare, personal care & beauty and leisure & lifestyle companies throughout the U.S. to re-energize customers, brands and business. It's extensive healthcare portfolio includes strategic and creative solutions for healthcare systems, hospitals, service lines and specialty physician groups. Representative clients include Arnold Palmer Enterprises, EMA, Kate Spade New York, Orlando Health, Pacific World's SensatioNail, Palomar (PaloVia Skin Renewing Laser), Reading Health System and Renal Ventures Management, LLC. Learn more about Trajectory by contacting Eric Brody, President at 973-292-1400x201 or email him at mailto:eb(at)trajectory4brands(dot)com.