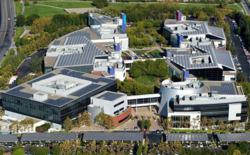 Their [BRG's] expertise in workplace management solutions is highly evidenced by their exceptional performance during the transition and we are very excited at Google to officially start the contract.
(PRWEB) June 12, 2013
BRG announces the official commencement of Workplace Management Services for Google, a global Fortune 100 company. Having successfully transitioned the new BRG program over the last four months, BRG is now fully operational and in the process of delivering a full spectrum of services and value to benefit 'Googlers' across the Northern California region, home of Google global headquarters also known as the 'Googleplex.'
During startup and transition of any new account, particularly one as dynamic as Google, there are many challenges and pitfalls to be addressed. Striving for flawless execution, BRG applies best practices, draws upon documented and proven processes and leans on a comprehensive toolkit to ensure an effective and timely transition while assuring minimal negative impact on the employee population of the customer.
In response to BRG's effectiveness of the recently completed transition, Robin Atkins of Google comments, "Google recently contracted with BRG for services across our Northern California portfolio, including the Mountain View headquarters, spanning 4M square feet and 17,000 seated headcount. BRG's program services include space planning, move/add/change (MAC) support, fit-up coordination, CAD/CAFM administration, and oversight of third party furniture and move vendors. Upon RFP award in January 2013 for an April 1st start date, BRG immediately engaged an onsite transition team to ensure a seamless integration. BRG put myself and the Google team at ease during this challenging time moving from a long tenured incumbent vendor. Their expertise in workplace management solutions is highly evidenced by their exceptional performance during the transition and we are very excited at Google to officially start the contract." - Robin Atkins | Google Inc., REWS
Gerry Potter of BRG comments, "BRG knows we are one of many companies that can offer quality Workplace Management Services to Google. BRG strives constantly to distinguish ourselves in the marketplace by not being satisfied with providing simply the services for which we are contracted. We look not only for opportunities to highlight best practices and leading tools into our accounts, but also strive to bring innovative ideas and solutions to address client-specific issues and challenges.
"BRG is a solutions-driven company. Because workplace management is our core business, we have the people, methods and technology needed to provide best-in-class services to our clients. We focus on performance management programs to drive cost-savings strategies such as reduction of convenience moves, increased space utilization through alternative workplace programs and hoteling, automated space surveys, staffing optimizations, reduction of project follow-up and hourly charges, and reduction of furniture acquisitions.
"We at BRG are thrilled to be partnering with Google for years to come in a mutual pursuit of excellence." - Gerry Potter, Senior Vice President | BRG, Workplace Management Services
ABOUT GOOGLE
Larry Page, Google's co-founder and CEO, once described the "perfect search engine" as something that "understands exactly what you mean and gives you back exactly what you want." Since he spoke those words Google has grown to offer products beyond search, but the spirit of what he said remains. With all our technologies—from search to Chrome to Gmail—our goal is to make it as easy as possible for you to find the information you need and get the things you need to do done.
This means making search smarter and faster. It means making our products work intuitively. Above all, it means making our products work better so that people can spend time on the stuff they're good at—like enjoying time with family, camping in the wilderness, painting a picture or throwing a party. We're not there yet, but we're working on it.
ABOUT BRG
BRG provides innovative Workplace Management Solutions. Specializing in business advisory services, technology deployment and staff augmentation in support of Corporate Real Estate and Facilities Management organizations. BRG helps clients align people, processes and technology with their overarching business strategy. For more information, visit http://www.brg.com.