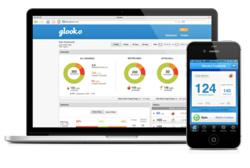 "Glooko provides a set of tools that allow us to spend more time optimizing therapy and less time managing technology," said Athena Philis-Tsimikas, MD, Corporate Vice President for the Scripps Whittier Diabetes Institute.
Palo Alto, Calif. (PRWEB) June 11, 2013
Glooko, Inc., makers of an innovative mobile solution for diabetes management, today launched a next generation Glooko Diabetes Management System that enables patients and healthcare professionals to more easily analyze blood glucose levels for patterns and make informed therapeutic decisions. The new Glooko app, version 2.0, will complement users' access to their glucose data on supported iOS devices and adds the ability to access blood glucose data and analysis charts via an accompanying web dashboard. An additional capability of the re-launched product – called ProConnect – will allow patients to initiate real-time, cloud-based sharing of their blood glucose data with select physicians who have opted in to the new ProConnect program.
The new Glooko System is designed to both improve diabetes outcomes and lower costs by making it easier for patients to collect, view and share their glucose data with their diabetes support team. The System leverages a mobile-based application to enable users to extract data from 19 popular glucose meters onto their iOS device, creating simple to read and informative analyses for patients and professionals. The information is now accessible, annotatable, and shareable. The cloud platform allows the glucose data to be presented and shared through a web dashboard or as a printed report.
"Glooko provides a set of tools that allow us to spend more time optimizing therapy and less time managing technology," said Athena Philis-Tsimikas, MD, Corporate Vice President for the Scripps Whittier Diabetes Institute. "My patients use many different meters and currently, I am forced to rely on a diverse set of proprietary PC-based systems that rely on dozens of meter specific cables and software applications. Glooko takes the data from these various meters and gives me a unified diabetes management platform."
Within the app, patients can easily annotate their blood glucose data with key factors such as food, medication and activity. The Glooko app contains a built-in food database that contains nutritional data for over 200,000 foods, allowing users to automatically log the carb content of their meals. The application also contains graphs that allow patients to better visualize blood glucose data by reviewing readings by time of day, day of week, and by date in addition to recording statistics on readings below, within, or above the targeted glucose range. These new capabilities give providers and their patients a comprehensive way to evaluate blood glucose readings over time so they can create therapy adjustments related to insulin, medication, diet and exercise.
"Diabetes is not only a growing problem, but also a disease whose management can be improved by the deployment of clinically relevant technology for patients, providers and systems," said Rick Altinger, Glooko CEO. "With Glooko, we saw an opportunity to develop technology to make diabetes logging - a key component of successful disease management - easier without making the solution expensive. While there are other mobile logbooks available most require users to enter data manually resulting in errors and missing data. Other products that allow patients to extract readings to a mobile device rely on the use of specific expensive meters with high strip costs. We are bringing robust logging and management tools to patients that allows them to use the existing meters."
Regularly checking and logging blood glucose levels is one of the most important elements of successfully diabetes management. This helps patients and their healthcare team to make informed decisions about therapeutic adjustments that may be required and provides early warnings of high blood sugar (hyperglycemia) or low blood sugar (hypoglycemia). Improved diabetes management has the potential to diminish emergency hospitalizations due to blood glucose variations, which can cost up to $5,000 a day.
Glooko's revolutionary system will be on display at the American Diabetes Association 73rd Scientific Sessions at Booth #1082 in the Exhibitor Hall.
To learn more about Glooko, visit the site at, http://www.glooko.com
About Glooko
Glooko™ is an innovative Silicon Valley startup with a unique solution for people with diabetes. Glooko's products –Glooko app for iOS devices and MeterSync Cable – enable people with diabetes to easily collect, view and share the information needed to help them successfully control their blood glucose readings. It has been hailed by users and industry influencers for its ease of use and ability to deliver context to daily data collected by people with diabetes on both a mobile and web-based platform. The company was founded in 2010 by technologist Yogen Dalal and mobile and web app developer, Sundeep Madra. Endocrinologist Michael S. Greenfield, M.D., is chief medical officer. The company's first generation product received FDA 510(k) clearance in December 2012. Many on the Glooko team including the founders have a personal connection to diabetes. Glooko is backed by several Silicon Valley innovators, including former Facebook, Apple and Cisco executives. Together they are committed to helping people with diabetes live their lives while effortlessly managing their diabetes.