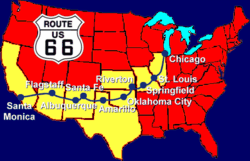 Won't you get hip to this timely tip:
When you make that california trip
Get your kicks on route sixty-six.
(PRWEB) June 11, 2013
After receiving a message from Kay Shelton, President of the Lincoln Highway Association, AncestorEbooks realized that they had mixed messages when cross-referencing the route 66 history. When doing research for family history trips to plan for the summer an amazing number of cities and states were advertising their 100 year celebration and with it this famous highway.
While researching for reasons to use Route 66 as a family summer excursion into the past, AncestorEbooks took a wrong turn at 'Grant sought for park at Route 66, Lincoln Highway'
An assumption was made, that was entirely wrong, which joined these two great highways from a similar past. On a second review of the websites too quickly researched it was found that there are many '100 year Celebrations' across American, however they only connect their celebrations to Route 66, whose highway number was given to the Chicago to Los Angeles Route in the summer of 1926.
"My face is red" states AncestorEbooks owner, Cristina Besendorfer, "I was wanting to give families a reason to come through Missouri and Oklahoma on a summer trip to reconnect with history and family. Somehow, in my hurry to reach a deadline my research on Rt 66 married Lincoln Highway!"
Lincoln Highway ran over a route that was much further north than Rt 66 and covered 3,400 miles from Times Square in New York City to Lincoln Park in San Francisco. Although Rt 66 was decommissioned in February of 1987, most of Lincoln Highway still exists today and information can be reviewed at The Lincoln Highway Association's website. [lincolnhighwayassoc.org/]
Route 66 states and businesses have worked hard to bring life back into this iconic highway, and through their efforts children will find much of the sights have been centered on kid-friendly attractions. An Oklahoma website touts the '400-mile-long' family vacation where the 'Mother Road offers children a virtual midway of kid-friendly attractions: cowboys and Indians, fiberglass giants, petting zoos, playgrounds, neon signs, tacky souvenirs and a thousand other delights no kid can resist.' [travelok.com/article_page/route66forkids]
Albuquerque, New Mexico has Summerfest on July 20, Tulsa, Oklahoma has marathon races for 12 and up on November 23, Joliet, Illinois will host the O'Reilly Auto Parts Route 66 NHRA Nationals Drag Races June 27-30. Joplin, Missouri will hold their International Route 66 Festival August 2-4 with The Road Crew - America's Route 66 Band.
As a further apology to the Lincoln Highway Association, we hope all who read this apology will visit their website and look at what Lincoln highway events are available, such as the Official Lincoln Highway Centennial Celebration, in Kearney Nebraska which will be June 30 through July1, 2013.
There are many tours for families that include the Dust Bowl Days of Oklahoma-California [travelok.com/article_page/dust-bowl-days-the-oklahoma-california-genealogy-connection] where children can learn about Woodie Guthrie and his Ballad, Talkin' Dust Bowl Blues or make a trip to the No Man's Land Museum in Goodwell, Oklahoma. Go by the Blue Whale of Catoosa, Oklahoma and learn how this huge Blue Whale landed in the middle of Oklahoma.
AncestorEbooks hope you will take the time to visit the Meramec Caverns of Stanton, Missouri, well known as a favorite hideout of the outlaw Jesse James, and watch a movie from your car at the 66 Drive-In Theater of Carthage, Missouri. Whatever you decide to do this summer, take a day or so and research your family history, go to the town near where your great grand parents had their farm, visit the cemetery where each tombstone is unique, and see what the people were like that made our nation great.