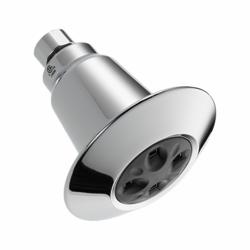 Customer satisfaction is a key component in our business and in the hotel business, so finding the right product quickly was a task we completed seamlessly.
Fairview, OR (PRWEB) June 12, 2013
Early this year, when the Paramount Hotel in downtown Portland, Oregon decided to go "green" by improving the water efficiency of their building, they called the Portland Water Bureau to find out their options. Portland Water Bureau staff performed an extensive water efficiency survey, and recommended the installation of low flow faucet aerators in the guest bathrooms and in the kitchen, as well as high-efficiency shower heads. As the search for the perfect shower head evolved, Paramount Hotels ultimately purchased the high efficiency Delta 52655 shower heads from EcoTone Products.
Federal regulations require that new shower heads cannot exceed 2.5 gpm (gallons per minute) at 80 psi (pounds per square inch). High performance water conservation fixtures can achieve cost savings between 25%-60%. Originally, Paramount Hotel had 2.2 gpm shower heads. With a more aggressive goal in mind, they desired to upgrade the shower heads to a lower gpm model. The Portland Water Bureau provided Paramount Hotel with basic, high-efficiency 1.5 gpm shower heads for all the rooms at no cost. Within a few weeks, Paramount Hotel management received some negative comments regarding the new high-efficiency shower heads and Norm Hwa, General Manager of the Paramount Hotel, brought his concern back to the Portland Water Bureau to find a solution. "Paramount Hotel has been very engaged in seeking water efficiency opportunities at their hotel. When Norm called us to talk about his concerns regarding the shower heads, we wanted to find a solution that supported their business needs, while staying within our budget constraints. We recognized this as an opportunity to try our new cost-sharing partnership," said Sarah Santner, Water Conservation Coordinator for the Portland Water Bureau.
Through the Water Bureau's cost-sharing program, Norm was referred to Roch Naleway at EcoTone Products. Hwa said, "Roch was very helpful in finding us a new, higher quality shower head. He brought me 3 samples and I tested them all. We ended up choosing the Delta 1.5 gpm shower heads. The Delta shower heads inject air. It has four holes but comes into a wider spray so the water is being forced through less holes, generating better flow and water pressure."
The Delta shower head 52655 was a great choice for Paramount Hotels because it has the technology for water conservation and the luxury of a high quality shower head. It is WaterSense-labeled, a program of the U.S. Environmental Protection Agency, which means that it uses between 20-40% less water than the standard industry shower head. It also retains self-cleaning spray holes that protect against mineral build up. The Delta shower head H2Okinetic technology is an advanced system that controls droplet size and movement, producing a more concentrated spray. These larger droplets save water without sacrificing comfort and preserve the heat longer. By creating a unique wave pattern, this Delta shower head is able to give the feeling of more water without actually using more water.
Hwa says, "Portland Water Bureau was a big help in meeting our ultimate goals of making the hotel "green". Because of their recommendations, Paramount Hotel has reduced its water usage, resulting in a lower water bill. Ultimately, the customer is happy with the new Delta shower heads and we are happy with the results."
Before 1992, some shower heads had a flow rate of 5.5 gpm. It is important to check old shower heads as it may be beneficial to consider swapping out an old shower head for a new one. This will conserve water and result in a lower water & sewer bill, which is mutually beneficial for the environment and the consumer. EcoTone Products specializes in providing high quality, energy efficient products to utilities, contractors and consumers. Roch Naleway, General Manager of EcoTone Products, says, "Partnering with the Portland Water Bureau to help Paramount Hotels go "green" was a great project. We coordinated with all the parties to get Paramount Hotel the right shower head with a quick turnaround. Customer satisfaction is a key component in our business and in the hotel business, so finding the right product quickly was a task we completed seamlessly."
About EcoTone Products
EcoTone Products, LLC is a wholly owned subsidiary of General Pacific, Inc. EcoTone Products offers products and services engineered to optimize resources while maintaining high performance standards. The commitment to quality conservation products extends through their vast product line, which includes manufacturers such as Delta and many others. EcoTone Products has a focus of providing quality product solutions and support that assists our customers in reaching their conservation goals.