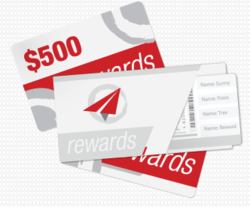 Plainview, NY (PRWEB) June 11, 2013
Pointrax Rewards, the newest miles shopping portal, is introducing a new feature that hands members the reins on what - and when - they can redeem.
This exciting new feature, called the "Reserve" tool, allows users to reserve limited time only redemption offers – including blow-out deals on vacation packages and other trip bundles – even if users don't yet have enough miles to redeem.
With this "layaway" option, users can put a hold on a desired reward for up to 90 days, enabling them to earn the miles for the redemption within that span of time. While their item remains in the member's reserve list, users can track how many miles they need to reserve that item on their account Dashboard. The rewards offered will come up on the site periodically as limited time only promotions, and will also appear in email newsletters. Reservations are on a first-come, first-served basis.
What makes the Reserve tool special is that it caters to Pointrax members travel or leisure aspirations. Pointrax Rewards allows its members to vie for vacation, giftcard, or ticket deals priced at incredible values, and in turn rewards its members not just for shopping, but for committed shopping with an end-goal in mind.
Pointrax Rewards loyalty model is straightforward. Site members shop on Pointrax Rewards for major brands and special offers and earn Pointrax bonus miles on every purchase. Members' earned miles can be subsequently used towards travel related redemptions, including airline miles, gift cards, and special vacation packages/hotel deals.
Pointrax Rewards utilizes exclusive partnerships to feature an up-to-the-minute rotation of flight, hotel, giftcard, and cruise deals, bringing members major discounts on travel through their onsite purchases.
First-time members receive an 1000 mile bonus for signing up, as well as a complimentary $25 hotel gift card upon completing their first transaction. Membership is free. For more information or to join Pointrax Rewards, click here.