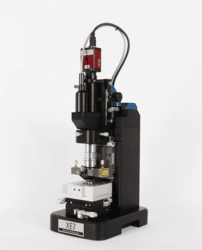 Park XE7 is the most affordable research-grade AFM product, a significant milestone that transforms the next generation of AFM technology from our global team of scientific experts- Ryan Yoo, Vice President of Global Sales and Marketing
Santa Clara, CA (PRWEB) June 11, 2013
Park Systems, a leading manufacturer of atomic force microscopy (AFM) products, announces the debut of the Park XE7, the scientific industry's most affordable, research-grade AFM with innovative design features. The Park XE7 provides AFM researchers with a cost-effective solution, which includes Park's proprietary technology, without compromising quality or functionality, a key distinction from more conventional AFMs. Also, independent praise for the Park XE7 continues to grow, with a recent reference in an article by Michael Shaw, a biochemist and columnist for Health News Digest.
"We continue to set new standards of excellence, besting the competition, with our new technology and high accuracy in AFM imaging and measurements," says Dr. Sang-Il Park, the founder and CEO of Park Systems. "The Park XE7 is the ultimate testament of this investment, enabling more researchers and scientists to achieve the most accurate nanoscale results at an unbeatable price."
Unlike other competing products, Park XE7 AFM allows researchers to obtain the flat and orthogonal XY scan of up to 100um x 100um, extended high nano resolution and tip cost savings through its True Non-Contact™ technology, and ease of use: intuitive laser alignment with pre-aligned tip mount and patented on-axis, top down view, easy head removal by dovetail-lock mount. Furthermore, Park XE7 derives all the benefits from its more advanced Park XE and NX series, a whole suite of measurement and characterization modes—the most extensive in industry—at a more affordable price.
"Park XE7 is the most affordable research-grade AFM product, a significant milestone that transforms the next generation of AFM technology from our global team of scientific experts," says Ryan Yoo, Vice President of Global Sales and Marketing."Customers can now purchase a whole new system with the best option compatibility and upgradeability in the industry, thereby offering an unprecedented level of savings and convenience."
About Park Systems
Park Systems is a world-leading manufacturer of atomic force microscopy (AFM) systems with a complete range of products for researchers and industry engineers in chemistry, materials, physics, life sciences, semiconductor and data storage industries. Park's products are used by over a thousand institutions and corporations worldwide. Park's AFM provides highest data accuracy at nanoscale resolution, superior productivity, and lowest operating cost thanks to its unique technology and innovative engineering. Park Systems, Inc. is headquartered in Santa Clara, California with its global manufacturing, and R&D headquarters in Korea. Park's products are sold and supported worldwide with regional headquarters in the US, Korea, Japan, and Singapore, and distribution partners throughout Europe, Asia, and America. Please visit http://www.parkafm.com or call 408-986-1110 for more information.