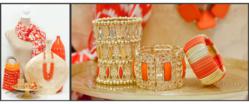 Teramasu is a love story about two people.
BELLEAIRE BLUFFS, Florida (PRWEB) June 11, 2013
Teramasu recently released the background story of the naming of its fashion line, inspiring many of its fans. Taken from the nickname of its founder, Terrie Moses, the name is a good fit for the line of jewelry, accessories and apparel.
"Teramasu is a love story about two people," Moses says, adding that her nickname came when she and her boyfriend, Kevin King, were involved in a long-distance relationship. Kevin would often say "Terrie I miss you" and soon adopted the nickname "Teramasu" for Terrie. Both were working as sales representatives for the same company at the time.
Teramasu began when Terrie moved from outside Boston to North Carolina to be with Kevin. She soon began designing a unique line of handbags, noting that North Carolina was home to some of the best textiles in the country. Soon, Moses had the beginnings of a company and, when it came time to choose a name, King convinced her that her nickname "Teramasu" was the perfect choice.
In 2003, Moses opened her first retail location in North Carolina, quickly becoming popular with tourists and locals in the Pinehurst, North Carolina area where it was located. Teramasu became a name associated with Moses's unique patterned designs, which extended from handbags to home accessories.
In 2008, Moses made the decision to shift her focus to her online operations. After releasing a new line of fashion jewelry "Teramasu Accessories", Moses and King relocated to Florida in order to be closer to family. Through the company's online store, Teramasu reaches out to customers all over the world. Moses also sells her unique products to other stores for resale through her wholesale business, which is also thriving.
In recent years, Moses has also added her offerings to include men's products. Teramasu's men's selection includes patterned scarves in classic colors and designs, money clips, wallets, and sunglasses. Moses finds that many of her customers find the site is a convenient source for locating great gifts for the men in their lives.
The company has come a long way since those early days of Moses designing her first line handbags in North Carolina. Moses is excited about the loyal customer base she is building, both of consumers for the online store and stores throughout the country now carrying her products. The online store provides a great creative outlet for the talented designer who has a gift for taking jewelry, apparel, and accessories and putting it all together.
To check out Teramasu's online store and browse Moses's line of inspired accessories visit http://www.teramasu.com/.