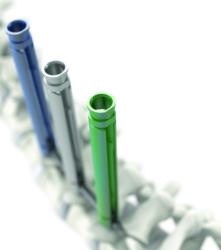 The Streamline MIS System provides comprehensive options for our surgeons and their patients.
Marquette, MI (PRWEB) June 11, 2013
Pioneer Surgical Technology, Inc., a leader in innovative medical devices, announced today the launch of the Streamline MIS Spinal Fixation System.
The Streamline Minimally Invasive Spinal Fixation System provides the ability to create a rigid construct in the thoracolumbar spine via a percutaneous or mini-open approach without sacrificing ease-of-use and flexibility like other MIS systems on the market. The system offers a broad range of implants and instruments, allowing treatment to be tailored to the patient for a more efficient, streamlined, implant experience.
"The Streamline MIS System provides comprehensive options for our surgeons and their patients," said Dan Webber, CEO, Pioneer Surgical. "Pioneer has designed a system that includes both innovative implants and instrumentation for a streamlined surgical technique. The launch of this system is further proof that Pioneer Surgical is dedicated to providing a complete product offering for our distribution partners."
About Pioneer Surgical Technology
Pioneer Surgical Technology, Inc. was founded in Marquette, Michigan in 1992. Since that time, Pioneer Surgical has developed successful products in the Spine, Biologics, Orthopedics, and Cardiothoracic markets. Pioneer Surgical has several facilities throughout the U.S. and in Houten, The Netherlands. The company employs nearly 300 people worldwide. Pioneer Surgical's state-of-the-art manufacturing capabilities differentiate it from others in the marketplace. This vertically integrated structure greatly enhances Pioneer's ability to take an idea from the drawing board to commercialization. Pioneer Surgical demonstrates its commitment to surgical innovation by designing and delivering products that provide intraoperative efficiency for surgeons, cost-effectiveness for the healthcare system and better outcomes for patients. For more information on Pioneer Surgical and its products visit http://www.pioneersurgical.com. ® indicates U.S. registration.