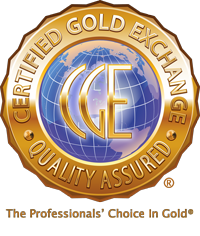 Institutional investors such as banks and 401(k) managers are demanding less gold derivatives while at the same time household investors are growing more interested in silver derivatives
(PRWEB) June 11, 2013
Popular U.S. gold and silver dealer Certified Gold Exchange has gone on record to state its belief that the gold silver ratio could shrink from its current 63:1 (approximate) status to as low as 30:1 in the next two years due to the growing popularity of silver derivatives combined with the waning interest in gold derivatives.
The gold silver ratio refers to the number of ounces of silver it would require for someone to trade for one ounce of gold. This indicator has historically been as low as 15:1 and many investors prefer silver to gold largely because of this figure.
"Institutional investors such as banks and 401(k) managers are demanding less gold derivatives (i.e. pool accounts, ETFs) while at the same time household investors are growing more interested in silver derivatives," said Brian Ford, associate director of research at Certified Gold Exchange in Dallas, TX. "The large firms are profit-hungry so they are selling their gold investments, causing the gold price to fall. Meanwhile, your average American is looking for a safe place to put his money, and he sees silver derivatives as safe. Plus, it is easier to buy $100,000 in a silver ETF than it is to buy $100,000 in silver bullion, since there is no storage involved," Ford added.
Certified Gold Exchange does not sell any gold or silver derivatives and only offers clients actual coins and bars. Why, then, would the company predict the level of interest in silver derivatives to rise? "As the gold silver ratio starts to shrink, more people are going to buy silver and even though it might be more difficult to store $100,000 in silver coins or bars, some folks would rather have it on hand than on a piece of paper, and we invite those individuals to contact us directly for discounted pricing and free delivery, or they can contact one of the dealers around the country to whom we make our metals available," Ford commented.
Certified Gold Exchange, Inc. is North America's premier precious metals trading platform, providing unparalleled service to licensed dealers, institutions, and household investors. Throughout nearly two decades of trading precious metals with the public, Certified Gold Exchange has maintained an A+ Better Business Bureau rating. For more information or a free "Gold Investor's Guide," visit http://www.certifiedgoldexchange.com or call 1-800-300-0715 today.