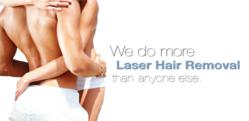 (PRWEB) June 11, 2013
It's time to cut down on shaving time by saying good-bye to unwanted hair and save money. New You Spa as a recognizable leader in Laser Hair Removal industry now offers a unique laser procedure package to let women and men get the unlimited treatments if there the results are not there, with the Ferrari of laser hair removal, Vectus from Palamar.
Laser hair removal is a procedure which removes hair from the body utilizing a long pulse laser. At New You Spa, the treatment is performed by a skilled laser technician. It is highly effective for both men and women and can be performed on underarm, legs, abdomen, lip, chin, back, buttocks, thighs, face, neck, chest, arms, and toes.
"Laser Hair Removal is a safe and painless treatment, which is much more effective than shaving or waxing," says Jeff Nourse, New You Spa manager. "No matter who you are, the unlimited laser hair removal package and the best service will definitely help to improve you appearance and get rid of shaving or waxing routine."
For more information on the Vectus™ Laser packages and cost, please visit http://www.newyouspas.com or call to book your complimentary consultation at
416-487-7848.
About New You Spa
New You Spa is a successful and growing provider of med spa services with 6 centers throughout Toronto GTA. Each New You location offers services for men, women, and teens of all skin types, including laser hair removal, skin rejuvenation, Botox® Cosmetic and dermal fillers, fractional laser resurfacing, Vela shape body contouring and teeth whitening, as well as, treatment protocols for acne, vein treatments and skin tightening. All treatments at New You Spa are performed by licensed aestheticians, certified laser technicians and registered nurses, and are supervised by the clinics' medical director