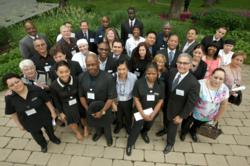 On behalf of the entire company, I want to thank our colleagues for being a part of the Hyatt family, for making Hyatt hotels great places to stay, and for making Hyatt a great place to work."
CHICAGO (PRWEB) June 10, 2013
At Hyatt Hotels Corporation's annual stockholders meeting today at The Hyatt Lodge at McDonald's Campus, President and Chief Executive Officer Mark Hoplamazian recognized more than 40 Chicagoland colleagues for their years of exceptional service to the company and its guests.
The acknowledged associates, who have worked at Hyatt's Chicagoland hotels, on average for 15 years, have collectively provided Hyatt guests with more than 680 years of service. Rich Kusak, bell captain at Hyatt Regency O'Hare and one of the individuals honored, is a charter member of the hotel team, having served guests at the iconic atrium hotel since its doors opened 42 years ago.
"Our people are Hyatt's most important asset and the key to our success," said Hoplamazian, who asked his Chicago area colleagues to rise for a round of applause. "Throughout their many years of service, these 44 individuals are representative of so many members of our Hyatt family. They truly embody our culture and demonstrate a unique passion for their work that keeps our guests returning year after year. They demonstrate care for one another and care for our guests every day. On behalf of the entire company, I want to thank our colleagues for being a part of the Hyatt family, for making Hyatt hotels great places to stay, and for making Hyatt a great place to work."
Hyatt is committed to providing its associates with an outstanding workplace experience, which is why so many spend their careers at Hyatt. The average tenure of the more than 40,000 Hyatt hotel associates in the U.S. is more than ten years, while the average tenure of Hyatt housekeepers is more than 12 years.
Ghulahussain "Hussein" Karim, a restaurant server at Hyatt Regency Chicago who recently marked his 27th anniversary with the company, said of the recognition, "Hyatt has provided me with the opportunity to grow through the years and helped me become the person I am today. I have been able to support my family and help my children attend better schools. My two sons graduated from college. One is a stockbroker and runs his own business, and the other is a financial analyst. Their successes would not have been possible without all the help and support of my Hyatt family. Thank you from the bottom of my heart."
The full list of Hyatt Chicagoland area colleagues recognized today include:
Hyatt Regency Chicago
Alice Arthur, 10 years
Reka Barczi, 8 years
Paulette Bonaparte, 9 years
Karie Catrambone, 3 years
Mila Esleta, 10 years
Manuel Estrada, 18 years
Eduardo Jimenez, 8 years
Ghulamhussain Karim, 27 years
Roosevelt Moncure, 29 years
Eli Moore, 25 years
Victor Rivera, 15 years
Hyatt Regency McCormick Place
Christina Gumuls, 18 years
Maketh Mabior, 11 years
Raphael Mareno, 16 years
Paula Statum-Davis, 11 years
Hyatt Place Chicago/Lombard/Oak Brook
Conchita Guerra, 15 years
Hyatt Place Chicago/Itasca
Yolanda Pozos, 14 years
Park Hyatt Chicago
Hasija Cisija, 12 years
Komlan Koba (Koba), 9 years
Humberto Ramos, 13 years
Antonio Williams, 8 years
Hyatt Regency O'Hare
Laurel Burleson, 3 years
Maria Delgado, 27 years
Peggy Halminiak, 41 years
Rich Kusak, 42 years
Eric Sampson, 1 year
Marvin Styles, 13 years
The Hyatt Lodge at McDonald's Campus
Lou Adams, 14 years
Adrian Barrios, 14 years
Richard Brandon, 23 years
Angelo Brimmer, 14 years
Maria Griese, 23 years
Omar Gutierrez, 3 years
Daria Kapinos, 6 years
John Lounibos, 5 years
Lisa Mariano, 28 years
Cheryl Raydl, 21 years
Bernan Redovan, 21 years
Ruben Rivera, 16 years
Danielle Robinson, 5 years
Martha Salas, 17 years
Amanda Sewell, 28 years
Jimmy Viscomi, 3 years
Mary Ann Viscomi, 25 years