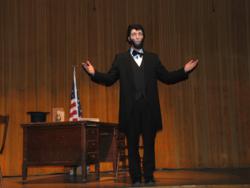 This will be a magnificent marriage of music and theater
Newport, RI (PRWEB) June 11, 2013
The Battle of Gettysburg, fought July 1-3, 1863, was the crucial turning point in our country's Civil War, a war in which Americans fought, maimed, and killed each other in astounding numbers and the modern identity of our country was forged.
At 7:00 pm, Friday, July 26, 2013, the Fort Adams Trust will present "A Tribute to the Battle Gettysburg," a musical-theatrical performance at the Newport Casino Theater, in Newport, RI. Chief Justice (Ret.) Frank Williams, noted Civil War-Lincoln scholar, will serve as the master of ceremonies. Dr. Fred Zilian, educator at Portsmouth Abbey School and Salve Regina University, will perform scenes from his one-man play, "Honest Abe." Ray Rickman, Providence-based civic leader, will make a guest appearance as Frederick Douglass.
Providing the musical component, Music Director Troy Quinn will lead a 42-piece orchestra, playing period and other music such as "Johnny Comes Marching Home," "Ashokan Farewell," and "Fanfare for the Common Man." Jay Bragan, who heads the Performing Arts Department at Portsmouth Abbey School, will direct the production.
Abe Lincoln presenter Fred Zilian (http://www.honestaberi.com) who conceived this event two years ago said, "This will be a magnificent marriage of music and theater, appropriate for all ages and designed both to entertain as well as to educate. It will commemorate the valor and devotion of both Union and Confederate soldiers. If Honest Abe were alive today, he would be very proud and highly honored."
Tickets: Adults-$25; seniors (65) and military-$20; students (17 and under)-$15.
To purchase tickets online, go to http://www.fortadams.org, or contact Rob McCormack, Fort Adams Trust, rmccormack(at)fortadams(dot)org; (O) 401.841.0707 x5
About The Fort Adams Trust
Historic Fort Adams is operated by the Fort Adams Trust, whose mission is to direct and support the stabilization, restoration and maintenance and operation of Fort Adams as a public historic site. Proceeds from the Gettysburg will benefit the preservation of Historic Fort Adams.