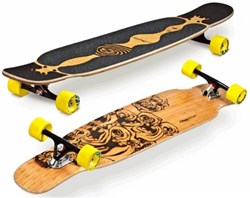 Greenville, SC (PRWEB) June 12, 2013
Anyone who needs to replace their old setup, or find their first longboard would do well to give http://www.GlobeLongboards.com their attention. This newly launched website is quickly becoming well known for their stock of top-notch longboards from the best name brands in the market. Their prices are also a point of interest, as the company offers their gear at a discount. In comparison to other competitors, GlobeLongboards.com is an inexpensive alternative. They also support a blog that gives essential information on longboarding, tutorials and unbiased reviews at http://globelongboards.com/longboard-reviews/.
One of the best features of GlobeLongboards.com are their longboard reviews. Unlike other websites each review is written by a real and completely unbiased longboarder. Their blog is also an excellent place for those who are new to longboarding, as it has tips and tutorials on assembling, disassembling, cleaning, repairing, and even riding a longboard for the first time. There are also several articles on how to get the most out of longboarding in all kinds of weather and seasons.
GlobeLongboards.com is quickly becoming a popular place to find quality longboarding equipment for low prices. Anyone looking to upgrade from his or her current setup, or find the perfect gift for a longboarder, can find what the need at GlobeLongboards.com.
About GlobeLongboards.com
We at GlobeLongboards.com want to provide everyone with detailed, unbiased reviews of popular longboards and longboarding gear. We are all longboarders ourselves and love to help out beginners and welcome them into the longboarding family. We have reviews, beginner tips, and videos to view on our site. We are also very excited to announce that we now offer new, name-brand longboards for sale at discount prices at GlobeLongboards.com.