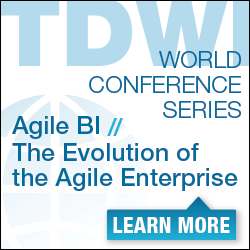 In a rapidly changing market and economy, every business must make informed decisions fast. Agile methodologies are helping make businesses more nimble, intelligent, and ultimately, more profitable.
(PRWEB) June 11, 2013
WHO:
TDWI (The Data Warehousing Institute™), the premier provider of in-depth, high-quality education and research in the business intelligence (BI) and data warehousing (DW) industry, has announced the featured track for its next 2013 TDWI World Conference, "Agile BI: The Evolution of the Agile Enterprise."
WHAT:
The San Diego World Conference will offer more than 45 in-depth, vendor-neutral BI and DW courses—including 11 courses specifically related to being adaptable and agile as you grow your data warehouse and business intelligence environments. The conference's agile track examines the diverse components of agile, from project management to agile data warehousing architectures.
Conference courses will be presented by leading BI and DW experts and practitioners. Attendees will learn how to build a business intelligence foundation, how to lead agile teams, the fundamentals of agile BI design techniques and requirements management, and the essentials of agile analytics and agile dimensional modeling, among other topics.
Attendees will also be presented with a variety of professional development and networking opportunities, including certification.
WHEN:
August 18–23, 2013
WHERE:
Manchester Grand Hyatt
One Market Place
San Diego, CA 92101
SPEAKERS:
Keynote speaker Mark Giesbrecht (senior manager of BI at Canadian National Railways [CN]) will discuss how the company leveraged data and embraced the agile data warehousing philosophy in 2011 to deliver value sooner and address the challenges of uneven user engagement and evolving requirements. Giesbrecht will discuss the company's journey of agile DW adoption and the work that still remains, as well as how CN balances time-to-market with warehouse sustainability.
Keynote speaker Lawrence Corr (principal for DecisionOne Consulting) will discuss new collaborative modeling techniques for actively engaging business model innovators in designing future BI data stores and gaining a head start in agile BI development.
The TDWI BI Executive Summit, a semiannual special program for executives and sponsors, will be held jointly with the TDWI World Conference. The summit, which will take place August 19–21, is dedicated to providing attendees with experience-driven insights to help them deliver BI and analytics value sooner. Its sessions will focus on how leaders can use agile methodologies to streamline BI, analytics, and data warehousing projects and how to overcome strategic and operational challenges. The summit will feature workshops, case studies from Swedish Medical Group, GE Aviation, and ADP Cobalt (among others), and peer networking opportunities.
The TDWI Exhibit Hall will showcase leading providers of hardware, software, and services for business intelligence, data warehousing, and related technologies.
REGISTER:
Event Website: http://tdwi.org/sd2013
Conference attendees who register by June 28 are eligible for a special discount of up to $600.
FOR THE MEDIA:
Members of the media are invited to cover the event. Interviews with TDWI spokespeople are available upon request.
Media passes are reserved for press representatives and analysts who can verify that their publication or organization regularly covers data warehousing, business intelligence, or related topics. All media are required to provide samples of previous reports covering these topics. Please note: media passes will not be issued to publishers, sales, marketing, advertising, public relations, or technical support staff from any organization.
To apply for a media pass, please send an email to bwoodbridge(at)tdwi(dot)org with the following information: Name, title, company, e-mail address, telephone number, dates of attendance, publication/website name (including website URL, link to 3 articles/blogs/podcasts published in the last 3 months that cover business intelligence, data warehousing, or related topics.
For more information on the 2013 TDWI World Conference in San Diego, please contact:
Brenda Woodbridge
TDWI Event Director
Phone: 425-277-9132
bwoodbridge(at)tdwi(dot)org