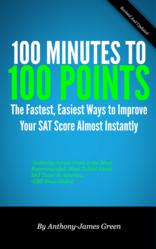 Success on this test comes down to strategy and practice, plain and simple - this book is a free, comprehensive primer for how to address both.
New York, New York (PRWEB) June 11, 2013
Students and parents looking for a leg-up on their SAT prep are in luck: Anthony-James Green, renowned SAT tutor and creator of the Teach Yourself the SAT system, has just released his book, 100 Minutes to 100 Points, to the public, and it can be downloaded without charge from his website.
The book's promise is simple: if students can devote 100 minutes to read its content, they'll improve by roughly 100 points on their SAT after their first pass. Green hopes the book will highlight the simplicity behind remarkable SAT score improvements.
"To get a really high SAT score, you only need to things: strategy and practice," says Green of his techniques. "The problem is that there are countless strategies available online, very few of which are tested, and almost no universally agreed-upon system for putting them into practice. My book boils down my most essential strategy sets and practice techniques into a short, easy-to-understand guide that any student can use to see instant score improvements."
Students and parents interested in downloading the book can do so here:
http://www.TeachYourselfTheSAT.com
Green has made a name for himself as one of the most effective SAT tutors in the world. After tutoring over 330 students 1-on-1, Green has achieved an average score improvement of over 400 points - a number almost unheard of in the SAT prep industry. Green credits his system, rather than his teaching abilities, for his remarkable success.
"I'd love to believe that I'm some supernaturally gifted teacher, but that's not really the case," says Green. "My success with my students comes from one factor above all else: I'm obsessed with building systems. I can't stand waste, ineffectiveness, and repeated actions, and I always strive to find the best way to do something, record it, and then improve from there. I've been perfecting my SAT tutoring methodologies over 10,000+ hours of observation and optimization, and my test prep system is a result of that labor. There are literally millions of ways to teach the SAT, but I'm confident that my way is best."
Green is open about using his students as test subjects. When working with students, Green takes his previously most effective methods and introduces slight alterations, carefully tracking the alterations in student score improvements and sticking with the best alterations. He then repeats the process, looking not only at individual elements of his SAT program, but at their effect upon each other and the holistic results of his efforts.
"My Teach Yourself the SAT program is my exact, optimized program, and it's available to the public for the first time ever. But if students and parents want a taste of what the program offers, 100 Minutes to 100 Points provides a free way for students to see only THE most powerful and simple elements of my program. Any high school student can spare two hours to improve his SAT scores, and this book is a great way to achieve that goal."
Green also offers his book, Test Prep for Parents, on his site via the following URL:
https://www.teachyourselfthesat.com/sat-prep-book/
Parents can use the book to learn more about the college process, the SAT's interaction with it, and what they can do to help their children succeed.
Green's release of the book comes as part of a larger effort to shine a light on his self-study SAT program, which has already achieved a student score improvement of over 380 points. Green's confidence in his programs is evident from the guarantee he offers on his site:
"I can't stand red tape and complicated guarantees, so mine is simple. If someone tries the program, and they haven't improved by hundreds of points in 21 days or less, they get a full refund. No questions asked, no forms to fill, and nothing to mail back. No one offers a test prep guarantee like this because no one has a program that works this well. Period."
Parents interested in acquiring the program for their children can do so for less than $400, which includes full access to Green's program and three free SAT textbooks shipped directly to their door. The program can be accessed from any internet-connected device, and operates on any students' schedule from anywhere in the world. If students don't see enormous score improvements within 21 days, the free books are theirs to keep. The program also comes with both a long-term SAT program and a last minute SAT program, both of which are included in the purchase price.
Green is offering his free book for a limited time, and hopes that as many students as possible will benefit from its lessons.
Green currently lives between Los Angeles and New York City, where he tutors the SAT full time when not working on his SAT curriculum.
###