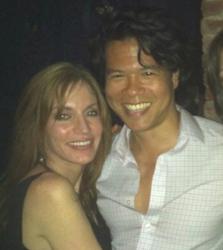 Stamford, CT (PRWEB) June 13, 2013
There comes a time in every successful venture when the founders recognize the need to pass the baton, and that time has come.
The Stamford Tech meetup announces a change in leadership. Moving forward, The Stamford Tech will continue to grow under the vision and guidance of Zishan Ahmed.
"I know that Zishan will continue to grow The Stamford Tech Meetup," states Kelly Hadous, one of the founders. "The tech industry and investment arena are constantly changing and evolving. Being able to create new and exciting networking opportunities and events for techies and investors located in Stamford and the surrounding areas is important for the community. It is also opens up new opportunities for those who do business, live and work in Stamford."
In February of 2010, before any TEDx events arrived in the area, Roger Wu entrepreneur extraordinaire and Kelly Hadous, president of Win The Room™started The Stamford Tech meetup. The duo realized Stamford, CT, was void of ongoing events for techies and investors to gather. It was at that point, Kelly and Roger felt the need to bridge the gap between New York and Stamford to create a vibrant community, similar to one that already existed in New York.
Their tag line was: "Stamford Tech bridges the gap and fosters relationships between two great cities: New York and Stamford". Without fail and like clockwork every month, local techies and investors knew they could rely on Stamford Tech for networking and be inspired by entrepreneurs pitching their new technology to the crowd. The membership swelled to 1000 people, and was considered one of the top meetups in the country.
The legacy will continue to grow under the leadership and vision of Zishan Ahmed, who has been a member since the beginning of Stamford Tech. It's an exciting time in the tech industry where hubs for engineers, entrepreneurs, and investors can co-exist.
For more information about Stamford Tech, visit The Stamford Tech Meetup.
About Stamford Tech:
Stamford Tech, a local organization that creates networking and educational opportunities for techies and other professionals, bridges the gap and fosters relationships between two great cities: New York and Stamford. The group consists of a growing community of entrepreneurs, lawyers, investors, web developers, designers, and more! Stamford Tech appreciates all that is tech and in addition offers more learning opportunities such as innovative speakers, five minute tech demos, womanpreneur, and hacks of the month.
About Win The Room:
Kelly Hadous is president of Win The Room™; an executive communication company, which is passionate about developing smart swag-- your own authentic style of communicating. Win The Room™ focuses on public speaking, pitching and leadership development. Win The Room™ is devoted to a client's presentation needs and helps them achieve their most important objective--their bottom line.
Roger Wu started the first NYC Pinterest meetup, founder of NYC Crowdfunds and founder of several internet companies http://www.linkedin.com/in/rogerwu.