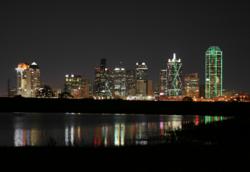 "We want to meet the rising demands for easy and safe airport parking....."
Dallas, TX (PRWEB) June 11, 2013
Greenbee Parking has already made its mark as the leader in the long term airport parking solutions. Now it has announced great discount parking options for all their customers, even those who do not travel as frequently. One of the first among these is the extremely low rates which are just as valuable as having DFW airport parking coupons for travelers using this popular international airport. Dallas (DFW) is one of the busiest airports in the world in terms of both passenger traffic and aircraft movements. It connects with 200 destinations worldwide which gives an indication of its operations expanse. Ground transportation to and from the airport involves DART buses and Trinity Railway Express, the commuter rail service to Dallas and Fort Worth cities. Despite these conveniences, cars are the preferred travel modes here which make it imperative that one gets fast and easy access to airport parking spaces. With Greenbee Parking this is now a distinct possibility.
"We want to meet the rising demands for easy and safe airport parking for travelers using this busy airport but at an affordable cost," said Hamant Patel - Manager, Greenbee Parking. "That is why we have come up with services that are just as effective as using DFW airport parking coupons which will allow frequent travelers as well as vacationers to avail great parking spaces without paying through their noses. With these parking programs they can save more than 75% of their airport parking costs, and they don't need an actual coupon to utilize these discounted rates."
DFW Airport Parking Information
The DFW International Airport is among the top 10 busiest airports in the world connecting with 200 destinations globally. With seven runways, 155 active gates and five terminals it is also one of the highest capacity airport in the world. Passenger traffic here is very high which in turn leads to heavy volume of ground transportation and demand for increased and affordable airport parking options. The DFW airport has also been rated as one of the leading global airports in terms of customer service and amenities. This makes it even more important to establish superior parking facilities so that travelers can enjoy maximum comfort in and out of the airport. With the DFW airport parking coupons now every traveler can have better parking choices at extremely competitive prices.
The Greenbee Airport Parking Solution
Greenbee Parking has effectively bridged the gap between parking problems and solutions at both airports and major seaports. They have tied up with major hotels for available parking spaces at discounted rates which they offer their customers across the nation.
All that travelers need to do is visit Greenbeeparking, select their city or airport of choice, choose the parking spot and pay through a secured payment gateway. There is a comprehensive list of airports and parking spots to choose from. Greenbee's wide network makes it possible for every customer who logs in to find a solution. Now with options like DFW long term parking solutions travelers can save more than 75% of their parking costs.
About Greenbee Parking
Greenbee Parking is the nation's most innovative long term parking company, with a new way of making long term parking affordable. The company is rapidly adding new airports to its network.