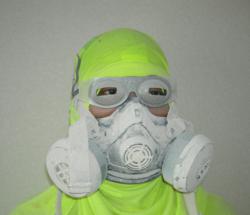 "I constantly see and hear about painters who forgo eyewear when spraying because they find it too inconvenient," said Kikuyama. "This product is going to change that and improve health, enhance safety and maintain productivity."
Honolulu, HI (PRWEB) June 11, 2013
New patent-pending spray goggles from ProBlocker introduced this summer offer a clear way for painters to avoid choosing between blocked vision or harmful exposure to overspray when working with spray paint. The goggles use air itself to create a barrier where paint cannot accumulate and that resists paint particles from entering the eyewear.
Existing protective eyewear for painters requires frequent cleaning and adjustment, making it inconvenient to use. The breakthrough Ninja™ goggles are designed with the health and comfort of spray painters in mind. They guard the eyes and allow vision without requiring cleaning or adjustment so that painters can continue working without interruption.
The Ninja™ spray goggles consist of a sleek plastic frame with an open viewing slit in the center of each lens. By sealing the air space around the user's eyes, they create a pocket of dead air that acts as a barrier to intrusion by paint particles. Painters can see through the slits even if airborne paint mist is deposited on the frame. The goggles can be used on their own or as an enhancement to safety glasses.
Product developer and company president Kendall Kikuyama has more than 45 years of experience in the painting industry. He became concerned about eye health and safety after seeing too many workers with spray-painted "raccoon" eyes after finishing spray jobs.
"I constantly see and hear about painters who forgo eyewear when spraying because they find it too inconvenient," said Kikuyama. "This product is going to change that and improve health, enhance safety and maintain productivity."
Look for ProBlocker™ slit eyewear at your local paint dealer or visit ProBlocker.com.
ProBlocker is a Hawaii-based manufacturer and distributor of slit eyewear for the painting industry. Company headquarters are located at 429 Waiakamilo Rd. #206, Honolulu, HI 96817.