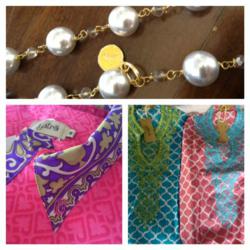 New York, NY (PRWEB) June 12, 2013
The Yatra Collection – an independent fashion label featuring an artistic line of handmade, India-inspired apparel and accessories – is currently accepting requests from women and charities across the country to host a private trunk show this year.
The Yatra Collection, is only available in small boutique shops and through private trunk shows, according to co-founders, Rati Bahadur and Gayatri Khosla.
"It's because we want to keep it special and unique," Khosla said. "We only release a few collections each year and many of them are limited edition pieces."
Women interested in hosting a private Yatra Collection trunk show can use it as a fundraiser for their signature charity.
"We donate a portion of the sales from our private trunk shows to the hostess' charity of choice," Bahadur said. "It's at the heart of what we do – fashion with a social mission."
Yatra, in Indian traditions, means journey, or procession. And that's what the collection has been for Khosla and Bahadur, long time friends who attended boarding school together in India and realized their dreams of not only one day merging their creative interests in fashion to create their own label, but also finding a way to give back to their communities.
The Yatra Collection focuses on simple silhouettes, classic pieces and perfect tailoring.
The newest pieces in the Yatra Collection include jewelry with natural stones, sari-inspired shirts, embroidered and chiffon tunics, stoles and sari border crop tops.
The clothes represent the vibrancy of every day life in India. The pieces are colorful, bright and echo the India Khosla and Bahadur love so much.
Interested in hosting a private trunk show? Email yatratrunkshow(at)gmail(dot)com or visit http://www.yatracollection.com for more information.
About The Yatra Collection: Women With A Mission
Long time friends since they were together at boarding school in India, Gayatri Khosla and Rati Bahadur knew that they would one day merge their creative interests in fashion and design to create their own label. Their complementary styles, interests and expertise have allowed them the freedom to bring the vibrancy and exclusive hand-craftsmanship of India to the western shores.
They design and work with high-end artisans to put together a collection a few times each year. The co-founders travel to India and immerse themselves in the chaos, and the vivid abundance of exquisite craftsmanship of artisans, two aspects that exist side by side and are so typical of India. It is in India that the designs come to life.
Learn more about the Yatra Collection at http://www.yatracollection.com.