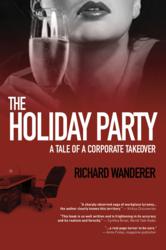 A sharply observed saga of workplace tyranny.
Los Angeles, CA (PRWEB) June 12, 2013
Richard Wanderer, author of the critically acclaimed novel, The Holiday Party (A Tale of a Corporate Takeover) (http://www.theholidayparty-ataleofacorporatetakeover.com) commented today on The Drucker Exchange's recent blog, which in turn, quoted in part from a new post at the Harvard Business Review Blog by Robert B. Kaiser and Robert E. Kaplan.
Kaiser and Kaplan proposed the idea that Lincoln's people skills may have gotten in the way of his management. They cited an interview with Lincoln biographer Doris Kearns Goodwin in which she stated, "Lincoln's greatest flaw came out of his strength, which was generally liking people and not wanting to hurt them." Goodwin explained how Lincoln stuck with General George McClellan when he shouldn't have because of his failures on the battlefield. Nevertheless, historians suggest there were extenuating circumstances as to why he politically had to stick with General McClellan.
The Drucker Exchange jumped on Doris Kearns Goodwin's statement and in turn quoted the late Peter Drucker as stating, "A manager who pretends that the personal needs of the subordinate for affection ... rather than the objective needs of the task, determine what should be done, would not only be a poor manager, no one would - or should believe him ..."
"All he does is to destroy the integrity of the relationship and with it the respect for his person and his function." In making their point for a tough, objective manager, the Drucker Exchange didn't pay much attention to the eloquent points also made by Doris Kearns Goodwin, as also quoted in the HBR blog, about President Lincoln where she considered the possibility that his leadership could not have been more effective had he not been as caring. Lincoln's tremendous gift of people skills, i.e., exceptional emotional intelligence; listening to all views; eye for talent; ability to forgive; share credit for success and assume liability for failure - earned him loyalty.
Author, Richard Wanderer, who worked in the advertising sales departments of major national magazines in NYC and LA for more than fifty years and is now also a member of the California Bar, firmly believes that a caring manager inspires loyalty with his or her employees. A good manager works with their employees and takes pride in their development and success. If anything today, with the displacement of employees often caused by excessive corporate greed, there is a need for more compassionate leadership in the workplace as displayed by President Lincoln.
Richard Wanderer's fictional suspense novel, The Holiday Party (A Tale of a Corporate Takeover) was inspired by his anger at corporate greed and injustice in the workplace. His characters and situations are often an amalgamation of scenarios he encountered over the years and his active imagination. In the 1960s, he actually called on the Real Mad Men of Madison Avenue.
The HBR Blog Post - http://blogs.hbr.org/cs/2013/06/can_you_overdo_people_skills.html
About Richard Wanderer's Novel:
Richard Wanderer's fictional suspense novel, The Holiday Party (A Tale of a Corporate Takeover) http://www.theholidayparty-ataleofacorporatetakeover.com deals with the takeover of a family owned national magazine, GLADSTONE, run in an employee friendly manner, by a huge media conglomerate that installs a Draconian thrift regime to benefit their corporate profits. The loyal employees of the once family owned magazine, whose efforts built the magazine into an attractive takeover target, suddenly find their lives have changed for the worse as chaos reigns in this fictional suspense novel. Loyal and competent employees are immediately escorted out the door because in the eyes of the penny pinching conglomerate they make too much money. His novel has received very strong reviews: Kirkus Reviews calls it, "A sharply observed saga of workplace tyranny"; San Francisco Book Review, "Page-turner"; MidwestBook Review, "Highly recommended"; Indie Reader, "Suspenseful"; Bookviews by Alan Caruba, "Leaps off its pages". Published by Two Harbors Press, the novel is in soft cover and also available on Kindle and Nook.
Contact: Patricia O'Brien, St. Bernard Public Relations (818) 986-7777