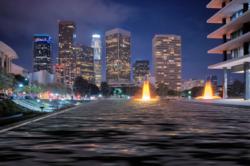 "We have always focused on providing the best services to our clients at the best possible rates."
Los Angeles, CA (PRWEB) June 12, 2013
Greenbee Parking, a key player in new age airport and seaport parking solutions, is happy to announce that it has received highest commendations from frequent travelers who use the Los Angeles (LAX) International Airport. A look into the LAX long term parking reviews will show how customers have been positively affected by Greenbee's services in the recent past. Compared to their earlier harrowing experiences, travelers now have fast and easy options to park their cars when they travel via LAX. The parking spaces are either close to the terminals or at convenient hotel locations which ensures that their vehicles remain safe during their travel duration. Along with security, clients also enjoy discounted rates which can cut down their parking expenses by more than 75%.
According to Mohit Mehra - Manager, Greenbee Parking, "We have always focused on providing the best services to our clients at the best possible rates. The latest LAX long term parking rates and reviews are simply validation for our efforts and dedication to all those who avail our services. We shall continue with more innovative parking options so that travelers continue to get better value for their money with us."
Los Angeles Airport Parking Information
Los Angeles (LAX) International Airport is the sixth busiest airport in the world and the third busiest in the US making it an important hub for both domestic and international travel. It records around 680 daily domestic flights and 930 international flights per week. It served around 64 million passengers in 2012, a staggering number which shows why there is such a huge demand for better parking options from travelers frequently using this airport.
Lax connects with the Greater Los Angeles Area along with other key locations in the rest of California. It is the busiest airport in the western coast which has aptly given it the nickname of "Gateway to the Pacific Rim". A wide array of public transport options like airport bus service, local bus lines, door-to-door shuttle van service and light rail are available for travelers. They can also take the free shuttle bus to the METRO's Green Line Light Rail. Taxicabs, rentals and personal vehicles however form the major percentage of ground transport options. With experts like Greenbee Parking, there are now ready slots available for travelers which allows them to park their cars in secure locations and for a great price. Consistent customer service and optimum value for money has led to the high praise and positive LAX long term parking reviews for Greenbee Parking today.
The Greenbee Airport Parking Solution
Greenbee Parking has effectively bridged the gap between parking problems and solutions at both airports and major seaports. They have tied up with major hotels for available parking spaces at discounted rates which they offer their customers across the nation.
All that travelers need to do is visit Greenbeeparking, select their city or airport of choice, choose the parking spot and pay through a secured payment gateway. There is a comprehensive list of airports and parking spots to choose from. Greenbee's wide network makes it possible for every customer who logs in to find a solution. Now with options like cheap LAX long term parking solutions travelers can save more than 75% of their parking costs.
About Greenbee Parking
Greenbee Parking is the nation's most innovative long term parking company, with a new way of making long term parking affordable. The company is rapidly adding new airports to its network.