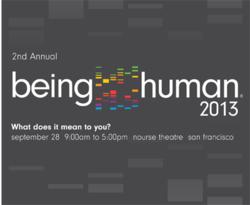 SAN FRANCISCO, CA (PRWEB) June 11, 2013
Three of the world's preeminent neuroscientists will be featured in a thought-provoking program segment entitled "The Biology and Psychology of Ethical Behavior" at the Being Human 2013 event to be held in San Francisco's newly restored Nourse Theater on Saturday, September 28, 2013.
The second annual Being Human event is dedicated to exploring our common humanity from scientific, philosophical and evolutionary perspectives. In addition to the segment on Ethics & Behavior, the conference will also include segments on Human Emotions, Love & Sex, and The Future of Being Human. Through speaker presentations and facilitated conversations, each segment will foster a sense of connection, clarity and a deeper understanding of what it means to be human.
To shed light on why we humans do what we do, Stanford Professor Robert Sapolsky, Ph.D., Princeton University's Professor Susan Fiske, Ph.D., and Joshua Greene, Ph.D., of Harvard University will share their latest research and insights on the biological and psychological underpinnings that drive ethical behavior.
With a true talent for simplifying the complex, Dr. Robert Sapolsky is a world renowned neuroscientist and Professor of Biological Sciences, Neurology, Neurological Sciences, and Neurosurgery at Stanford University. He is also a MacArthur Fellow and an adept science writer best known for his book, Why Zebras Don't Get Ulcers. Much of his research focuses on how biology affects the mind, including how prolonged stress, particularly invented social stressors, can cause physical and mental afflictions. Dr. Sapolsky's study of stress in non-human primates offers a fascinating understanding about how human beings relate to this universal pressure.
Princeton University Professor of Psychology, Susan Fiske, Ph.D. is a psychologist whose research reveals how prejudice, stereotyping, and discrimination are influenced by social relationships, and how "when people are on our side, we take the trouble to know them." Through her research she's concluded that prejudices are an inevitable part of the human condition, but that they are also quite malleable and subject to change. She says, "When people need each other in the service of shared goals, they come together across group boundaries and get to know each other." Dr. Fiske has authored several books, including Facing Social Class: How Societal Rank Influences Interaction (with Hazel Rose Markus) and Social Beings: Core Motives in Social Psychology.
Joshua D. Greene, Ph.D. is an Associate Professor of the Social Sciences and Director of the Moral Cognition Laboratory in the Department of Psychology at Harvard University. He studies the neurological basis of moral judgment, and his work seeks to understand how those judgments are shaped by automatic processes and reasoning, as well as how different parts of the brain are involved in making difficult moral choices. In 2012 he was awarded the Stanton Prize by the Society for Philosophy and Psychology. His new book, Moral Tribes: Emotion, Reason, and the Gap Between Us and Them will be published by Penguin Press this fall.
"We are thrilled to welcome Drs. Sapolsky, Fiske and Greene to Being Human 2013," said Jeff Klein, Executive Director of the Baumann Foundation. "Their illuminating insights, rigorous thinking and deep delight in the experience of being human promise to stimulate inquiry and spark ongoing conversations on our collective human cultural evolution."
Tickets to Being Human 2013 and more information on these and other featured speakers and presenters are available at http://www.beinghuman.org/2013.
KEYWORDS: Robert Saplosky, Susan Fiske, Greene, Being Human, neurobiology, neuroscience, ethical behavior, Nourse Theater, Baumann Foundation, Peter Baumann, Ethics & Behavior, Human Emotions, Love & Sex, and The Future of Being Human
ABOUT BEING HUMAN & THE BAUMANN FOUNDATION: Being Human is an initiative of The Baumann Foundation that fosters an ongoing exploration into the nature of human experience from evolutionary, scientific and philosophical perspectives. By creating environments for learning, connection and conversation, including public and private events, publications and a website, Being Human invites all people to discover a deeper understanding of human nature. For more information please visit http://www.beinghuman.org/ and http://www.thebaumannfoundation.org/.