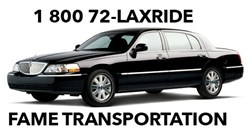 We understand that our clients' safety and timely arrival to the airport is priority, and we aim to provide this to all our clients.
Los Angeles, California (PRWEB) June 11, 2013
Fame Transportation's 1 (800) 72-LAXRIDE has been awarded their second National Safety Award for the second consecutive year by the National Association of Livery Providers at an awards ceremony in downtown Los Angeles. 1 (800) 72-LAXRIDE gained media attention last year when they announced that they guarantee Towncar service to LAX from anywhere in Southern California for less than the price of any taxi service.
In an industry where some people try to take the easy way out and resort to illegal business operations, 800 LAXRIDE has gone above and beyond to serve their clients with an impeccable safety record and was commended this weekend by the NALP.
Los Angeles has recently been inundated by illegally operated unlicensed bandit cabs that quite literally "take passengers for an unsafe ride", remarked Fame Transportation's CEO, Octavio Sanchez.
The illegal drivers seriously damage legitimate transportation companies, not only by losing customers, but also by the bad public image they bring to the entire business. Octavio Sanchez, president of Fame Transportation, has announced that his company that specializes in low cost, reliable, and most importantly, safe shuttle services to LAX Burbank Airport and Newport Beach Airport shuttle to LAX is going the extra mile to provide maximum safety training for its drivers to enable them to be the best trained, most safety conscious company in Southern California.
"People are always searching for a good deal and reliable airport shuttle service, and the 1-800-72-laxride a division of Fame Transportation has accepted the challenge of providing great airport shuttle service at a great low rate, with the safest, best qualified drivers," Sanchez said. "The Los Angeles Department of Transportation is cracking down on illegally run shuttle and Los Angeles limousine services, and with all the accidents occurring recently, some resulting in death due to poorly inspected vehicles, Fame Transportation has launched a new phone app that allows drivers (chauffeurs) to properly inspect vehicles before starting a workday. This app consists of a checklist that each Fame Transportation driver must follow before he is allowed to drive his vehicle. This checklist is just part of the change that Fame Transportation is doing to increase safety."
Transportation safety has been a key focus of the crackdown that has been taking place by a multi-agency drive to get illegal shuttles, cabs, and limousines off the streets, and to put a halt to drivers operating without permits and without meeting safety standards.
A crackdown on ground transportation operations at Los Angeles International Airport last June, for example, removed 26 commercial vehicles from service, impounded one vehicle and issued 71 citations to the drivers of buses, limousines and shuttle vans. During one four-hour enforcement operation alone, the airport police department, the California Highway Patrol, LAX officials and the California Public Utilities Commission inspected 275 commercial passenger vehicles that serve the nation's third-busiest airport.
The multi-agency team targeted drivers for proper driver and vehicle licenses, transponders, utilities commission and airport operating permits and proper commercial insurance. Since then, authorities have continued to get illegal, unsafe operators off the road.
Fame Transportation's safety app is just one of the ways the company is developing a reputation as one of the most reliable services in Los Angeles with low, honest prices for complete shuttle and limousine services to the major airports or other destinations. As Los Angeles limo and LAX shuttle services rush to come up with ideas to increase safety, Fame Transportation is already ahead of the transportation industry by training their drivers how to react under crisis situations like vehicle fires and or dangerous driving conditions. Fame Transportation is not only putting into effect a system to prevent unsafe conditions on LA's sometimes harrowing streets and freeway system, but also training its drivers how to react when encountering an unsafe road condition or emergency situation.
"We will always be looking for better ways to increase the safety of our passengers," Sanchez vows. "This is an ongoing process and I want my company to be the leader in safety and reliability at the lowest possible rate. We understand that our clients' safety and timely arrival to the airport is priority, and we aim to provide this to all our clients."
Fame Transportation can be contacted at http://www.fametransportation.com or by calling 1-800-72-laxride to arrange for airport pick up and drop off services.