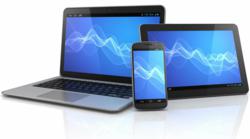 Each customer has the option to take advantage of a low priced monthly maintenance plan
San Francisco, CA (PRWEB) June 10, 2013
Since the late 1990's, The Host Group has been a steady force in the web hosting and (VPS) industries, offering a wide range of various digital services in North America to businesses of all sizes and specific needs. This month marks the 15th year in business for a company that has evolved with changing trends in technology. To celebrate the occasion, CEO and founder Doug Davis announced on Tuesday, a huge 20% discount for each of the (3) custom website design packages being currently offered to all hosting customers in the United States and Canada.
Currently, The Host Group is offering personal, business, and premium eCommerce solutions that include a wide range of options, including custom logo creation, shopping cart, social media development, and much more. The Host Group launched custom WordPress design services in the beginning of 2013, and has since seen a surge in new clients.
Turnaround time from 'start to finish' is typically 4-6 weeks for most sites, however some clients have more complex projects that may take slightly longer to complete and launch. Each and every Host Group custom website design customer has the opportunity to work directly with the project manager and the objective is always to finish the job and exceed expectations.
The Host Group design team brings decades of custom coding and graphics experience to the table, and consistently delivers a quality product, offering 24/7 support after launch. Each customer has the option to take advantage of a low priced monthly maintenance plan which includes (4) hours per month of programming support for continuous updates when needed.
From personal blogs, to sophisticated eCommerce solutions, the design team at The Host Group are experts in creating vibrant and effective websites that index well on major search engines, and ultimately reflect professionalism with a clean, polished look that makes it simple for the end-user to navigate.
For pricing information, just call (707) 499-8276 to speak with a representative from The Host Group. All inquiries before August 30th 2013 will be eligible for a 20% 'across the board' discount on all published services and products. Use Promotional Code: (HostDesign) when speaking to a representative. Customers can also visit http://thehostgroup.com