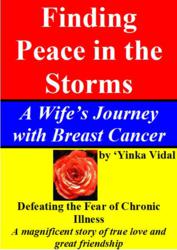 "Breast Cancer should not be a death sentence to human soul."
St. Louis, MO (PRWEB) June 12, 2013
Angelina Jolie just had a double mastectomy to avoid the danger and the emotional toll of dealing with breast cancer later in life. We spend so much time talking about the physical scar, but many times we ignore the emotional toll on many patients suffering in silence. This new book offers emotional support and hope to those suffering patients. It is written as an emotional therapy by Yinka Vidal, BS. MA. H.ASCP, a healthcare worker with over 40 years of dealing with patient care, medical research, pharmacology, and psychotherapy. In the healing process, the book chronicles the journey of a young mother, and a house wife's battle with breast cancer. Her story offers hope!
A Glimpse Inside the Story: While sitting at the doctor's office, Lisa Anderson received a medical death sentence. Her doctor said, her cancer that was in remission had come back and was more aggressive. Lisa was given less than two years to live. Shocked and in disbelief while trembling within, she started to think about how her life was about to end. She was a married woman, and a young mother of two. The fear of death shattered her hope. Anxiety and despair invaded her spirit. Depression attacked her soul, and immediately she lost her peace.
Lisa asked herself whether there was any quality in two years of a life submerged in deep sorrow. Would she be watching herself descending into the abyss of emotional darkness? In the midst of this emotional crisis, she suddenly realized that breast cancer was not the battle she was facing. Her greater battle was the fear associated with the process of dying, the fate of her husband and children after her departure from this world.
Lisa made a decision not to allow the bad news to drown her heart in sorrow. Instead of wasting away at the hospital with tubes hanging from different openings, listening to noisy medical monitors, and nurses and doctors coming in and out of her room, she made a decision. She was determined that if she only had a few months to live, she would live her life to the fullest. She was determined to conquer every fear that held her soul in bondage. Lisa was going to fight, because enough is enough!
Finding Peace in the Storms, by Yinka Vidal is the story of how Lisa Anderson who refused to allow the grim diagnosis from the doctor to poison her soul. No matter how many miles people run or how many programs are created to support breast cancer, at the end of the day each patient goes back home. When the excitements of social program is over, when the music noise and the cheering spectators disappear, at home some breast cancer patients may tumble into depression. Others may even go deeper into despair due to fear and anxiety associated with the illness. Her story offers hope!
Lisa engaged her closest friend to help carry her emotional burden. She was determined not to allow the cancer to distract her from enjoying her life. Both Lisa's husband Anthony and her dedicated friend Susan helped her along the process. Lisa learned to conquer her fears one by one. She refused to allow the fear of death to keep her from the joy of everyday life. In the process, she discovered the great source of joy and peace.
In conquering the fear of death, Lisa Anderson lived an enjoyable life. She gave a special gift to her husband to demonstrate her love to him. The gift Lisa gave, shocked many women, and ignited envy in the hearts of many wives to redefine the essence of true love. It is a hilarious and sometimes titillating love story between a wife who loved her husband and children so much, she was willing to do anything to protect them. It is also a magnificent story of committed friendship between two women. Instead of allowing fear to chain her soul to sorrow, Lisa Anderson found her greatest joy and peace in her faith in God. It's a story of conquering fear with faith in God!
Contact email: Yinka.Vidal(at)Yahoo(dot)com Twitter: @YinkaVidal, Tel: 314-653-0467.
Available at Amazon EBooks, $5.99
Book Web Page:
http://www.amazon.com/Finding-Peace-Storms-Journey-ebook/dp/B00CHW2DDG/ref=sr_1_9?s=books&ie=UTF8&qid=1370908049&sr=1-9&keywords=Finding+Peace+in+the+Storms