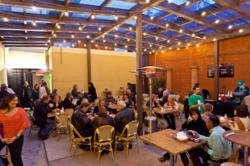 Napa, CA (PRWEB) June 10, 2013
Back by popular demand! Uptown Theatre's Courtyard Cafe will now be open every Wednesday from 6-8pm beginning on June 19th! The theatre is excited to be able to participate in "West End Wednesdays", a weekly event where local businesses in the West End of Napa stay open later, offer specials, and more. The Courtyard Cafe will be serving its regular menu of "elevated pub fare" and will rotate specials each week, and the bar will be open. It wouldn't be the Uptown without some live music, so you can count on catching some great tunes, drawing from the huge base of local talent.
The Uptown Theatre Napa is downtown's ultimate destination for live concerts. Nestled in the famed West End district, this stunningly restored art deco masterpiece showcases only the finest acts, featuring music, comedy and more. An historic landmark, the Uptown offers a phenomenal, intimate live show experience, with excellent site lines and world class sound and lighting. As concert venues go, this is the place to be. Every seat is a great seat so buy concert tickets now!