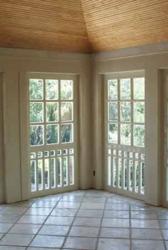 We designed and custom-fabricated our sales displays, just as we custom-design and fabricate each project we do.
MIAMI, FL (PRWEB) June 11, 2013
When Broward County overtook Miami-Dade as the No. 1 market for sunrooms, patio covers and screen enclosures by Venetian Builders, Inc., it was in great part because of soaring sales in Davie.
The town became the leading Broward County market for Venetian late last year, Noe said, and was second overall behind only Miami, which is Venetian's home area.
"Now, in 2013, leads for Davie sunrooms, patio covers and pool enclosures are growing even more because of our partnership with two Home Depot stores there," he said.
Venetian placed retail sales displays in two Davie Home Depots in late 2012.
"The Davie Home Depot displays, so far in 2013, have made a strong market even better for us," Noe said. "At this point our leads from Home Depot displays nearly equal our consumer-direct leads. And our overall residential sales are up 150 percent from figures a year earlier."
Residential sales in 2013 have grown in all four counties Venetian serves: Palm Beach, Broward, Miami-Dade and Monroe. Broward remains the top sales area, although Palm Beach is growing the fastest.
"Residents of Davie obviously like what they see in our sunroom and screen enclosure installations," Noe said. "Our sales also have been strong through the first five months of the year in Cooper City and Pembroke Pines, which are nearby. We have Home Depot displays in all those places, and leads from the retail displays have certainly helped."
Venetian is a big believer in custom design, Noe said. "We designed and custom-fabricated our sales displays, just as we custom-design and fabricate each project we do," Noe said. "That helps us satisfy homeowners in a town like Davie with a wide variety of neighborhood styles and home designs."
Venetian is accustomed to building to meet and exceed the tough Florida Building Code, Noe said. "We're experienced at meeting the most demanding regulations in the code, those for high-velocity-wind areas, such as along lakes, ponds, canals, parks and golf courses," Noe said. "Our heavier-gauge framing members serve to keep our swimming pool enclosures aesthetically pleasing, when in fact they provide extra strength against Florida's toughest storms."
The company offers impact glass, removable acrylic windows and giant skylights that are part of an integrated roof system, all engineered to help reduce the likelihood of storm damage.
Venetian Builders installs custom-designed solariums; patio covers and roofs, including aluminum pergolas and lattice; and screen swimming pool domes in an area from Jupiter to the Keys, including West Palm Beach, Fort Lauderdale, Hollywood, Miami and all nearby communities.
At-home consultations are free, as are estimates, which are written and detailed.
For more information call 866-596-2427.