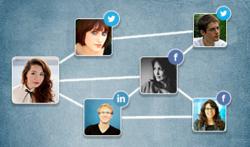 San Francisco (PRWEB) June 11, 2013
In conjunction with the release of Social Job Sharing Recruiter, the social job broadcasting solution for automating recruiter social job sharing, increasing recruiter productivity, and improving candidate flow, Work4 has released a whitepaper entitled "The Science of Social Job Sharing: How to Effortlessly Tap Your Social Network for Referrals and Passive Candidates."
Most recruiters know that referrals and passive candidates are considered a gold standard when it comes to sourcing; however increasing the number of referrals or inbound passive candidates can become a complex, time-consuming task without the right tools.
"This whitepaper serves a dual purpose," said Work4's VP of Marketing, Kirsten Smith. "It first introduces the reasoning behind why social media is ideal for attracting referred or passive candidates, and it then explains how automating the process of job sharing with the right tools can help optimize social sourcing and employer branding while decreasing demands on recruiters' time and resources."
Readers of "The Science of Social Job Sharing" will learn:
Why social networks bring in quality referrals
How to scale a recruiting strategy to attract passive candidates
How sharing jobs on social networks can augment employer branding efforts
How the right sharing tools increase recruiter productivity
For a copy of this whitepaper, please click here.
About Work4
Work4 powers social recruiting by making everyone a recruiter and everyone a candidate. 
We help thousands of companies, including many of the Fortune 500, find, engage, and hire top talent with our all-in-one recruiting solution for Facebook. Work4 allows employers to reach candidates through a Facebook Career Site and on mobile devices, take advantage social networks to drive employee referrals, and target Facebook's 1 billion users with intelligent recruiting ads. Work4 brings cost-effective, efficient sourcing and hiring to the world's top companies by leveraging the reach and scope of the world's largest and most powerful social network. 
Established in 2010 and backed by top tier investors such as Matrix Partners and Yuri Milner, Work4 has offices in San Francisco and Paris. For more information, please visit our website (http://www.work4labs.com), Facebook Page (http://www.facebook.com/work4labs), or Twitter account (@work4labs).