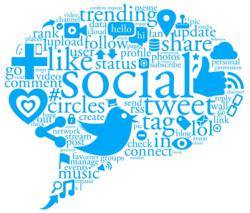 "Regarding the content of social media posts, it is important to provide quality content relevant to the areas of law that the law firm is focused on. A law firm should first focus on being both engaging and entertaining to an audience."
Annapolis, Maryland (PRWEB) June 11, 2013
TopSites Law is rolling out a Social Media Management package for attorneys and law firms. The new stand-alone offering, which was once a part of the firm's reputation management package, includes account setup on the five most important social media sites for attorneys (Facebook, Twitter, LinkedIn, Google+ and Foursquare), as well as day-to-day management and interaction.
Social Media outlets such as Twitter, Facebook, LinkedIn, Google+ and Foursquare are particularly effective for law firms. Embracing Social Media best practices is a great way to organically build a firm's online credibility. A well-structured Social Media marketing campaign can boost a law firm's online presence, strengthen its image, and cultivate a following of individuals who will see the firm as a trusted authority on matters of law.
Simply creating an account or page is not enough to keep that audience's attention. Consistently engaging followers will reinforce to the audience that this information is being created by a credible source, which will create more interactions with more Social Media users. The quality of your content can be even more important than the quantity, and should never be sacrificed.
"Regarding the content of social media posts, it is important to provide quality content relevant to the areas of law that the law firm is focused on," said Steve Crane, a Social Media Account Administrator with TopSites Law. "A law firm should first focus on being both engaging and entertaining to an audience."
Social Media is an integral part of any law firm's marketing efforts. Social Media allows law firms to organically and cost-effectively reach large audiences. It is important to understand the principles behind successful Social Marketing campaigns and how to utilize best practices in order to maximize exposure, credibility and online reputation.
About TopSites Law
TopSites Law is a full-service marketing agency for the legal industry, with offices in Annapolis, Maryland and Los Angeles, California. TopSites Law handles marketing, online advertising, interactive communications, public relations and website development for individual lawyers and law firms nationwide. To learn more about TopSites Law and our offerings, visit http://www.topsiteslaw.com.