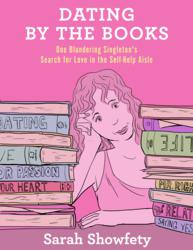 (PRWEB) June 11, 2013
Ready for the start of a fun, flirty summer? Look no further than Sarah Showfety's hilarious Dating by the Books: One Blundering Singleton's Search for Love in the Self-Help Aisle, a must-have for any single girls' beach bag.
Sarah was celebrating her 33rd year on the planet when she realized something alarming: it was her ninth consecutive birthday without a boyfriend (and also the age by which she thought she'd have three children already). After years swinging and missing on the New York scene, perpetually single Sarah had tried it all—speed, blind and online dating, Meet Market Adventures and Singles' Rodeo Night—still, no guy lasted longer than the half and half in her empty refrigerator. And certainly not long enough to bring home to meet her aging parents. While friends married, mortgaged and multiplied, she dined alone on Triscuits in her one bedroom Brooklyn rental and bought baby presents for her friends' newborns online, wondering if it would ever be her turn.
One day as she strolled through the aisles of a Barnes and Noble looking at the new releases, afraid she was cursed, or worse, unlovable, Sarah decides to enroll herself in Love 101: Home School Edition. Using dating guides as her textbooks, she'll read a book a month until she gets a clue – taking advice from a Buddhist Reiki Healer to the Millionaire Matchmaker; a Harvard M.B.A. to Dr. Phil. This was Sarah's quest to see if the experts could steer her love life out of the dingy garage it was parked in once and for all. Would they help her fix what she'd been doing wrong so she could meet Mr. Right?
The experiment was a success. Sarah not only found her Mr. Right but she also wrote Dating by the Books: One Blundering Singleton's Search for Love in the Self-Help Aisle, which chronicles her hilarious and heartbreaking misadventures along the way. She also left an unfulfilling job to become a transformational life coach. Her website, Straight Up You, offers a fresh, funny, no BS approach to women's issues relating to careers, dating and relationships. After turning her own life around, Sarah's goal is now to help women find their own inner awesome and create purposeful and authentic relationships and careers.
Sarah's top pieces of advice for singles include:

Give up the Blame Game. It's not "the scene" and all men aren't jerks! Take responsibility for being single. Look inside and address the thoughts, patterns, and actions in the way of a committed relationship. Then change them.
Don't Date While Downtrodden. Take a time-out for a self-imposed dating detox. Nurture emotional and mental well-being instead of dating. Take classes, go on vacation, start an exercise regimen or spiritual practice to generate an inner sense of joy and positivity before getting back out there.
Be Proactive. Go out where singles are, use open body language and icebreakers to start conversation, practice flirting everywhere, ask to be set up, date multiple people and take actions aligned with an intentional vision to meet The One.
About the Author and Life Coach
Born and raised in Westfield, New Jersey, Sarah attended the University of North Carolina at Chapel Hill. Before she became a writer and coach, she worked in marketing, finance, documentary film production and spent two years teaching English with the Peace Corps in Guinea, West Africa. Her love of travel has taken her to 30 countries.
Sarah married her Mr. Right in April of 2012. They live in Brooklyn and welcomed their first baby girl in March of 2013.