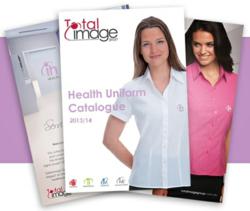 (PRWEB) June 13, 2013
With the addition of multiple new products, the 2013/14 catalogue sets a new benchmark for the most comprehensive health uniform issue ever released, offering an extensive collection of colourful, modern and comfortable uniforms and accessories.
Being a healthcare uniform specialist, Total Image have produced a uniform catalogue carefully considering the different aspects of the healthcare industry. This was achieved through extensive research that analysed the demographics, lifestyle, job roles and the working environment of health professionals, to effectively understand their various requirements and needs. In particular, the catalogue offers a variety of fabric alternatives including easy care, minimal ironing, stain resistant, breathability, cool dry, cotton poly blends, in-built stretch polyester and many more.
Total Image understands the importance of reflecting your brand image through uniforms and ensuring that employees feel comfortable and confident while at work and when carrying out their roles. This is why this catalogue has gone beyond providing a standard range and focuses on 'fit for purpose' uniforms as a key aspect.
Total Image Group Sales Health Manager, Flavia Milroy, commented on the new 2013 health catalogue release. "I am pleased to inform our existing and prospective customers that our new health care catalogue is the most comprehensive publication of its kind our company has ever introduced. Total Image is known for its quality products and combined with our thorough research, we have ensured this growing industry and its needs and requirements in uniform can be met."
To request a copy of the catalogue, please email health(at)totalimagegroup(dot)com.au.
About the Total Image Group
Total image group is a uniform, work wear and promotional product specialist. We are dedicated to designing, sourcing and coordinating product and branding solutions for your company.
We understand the importance of successfully communicating and managing your brand image and we will work with you to either enhance or create your image.
You will be able to choose from our stock range or take advantage of our sourcing and manufacturing capabilities, to find the right products and services for you.